Missouri Economy Indicators
Recent issues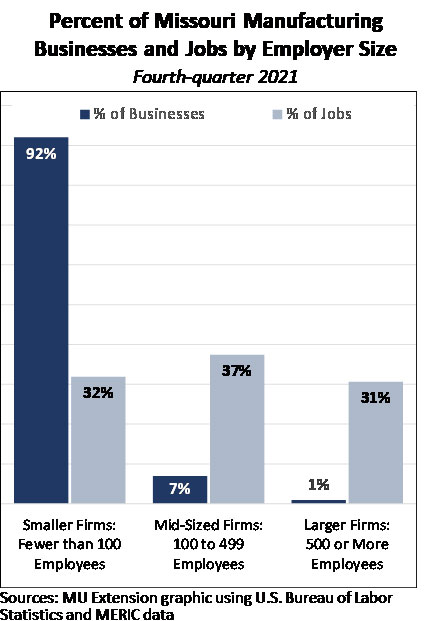 Missouri is home to nearly 7,200 manufacturers that employ 274,000 people. Smaller firms (<100 employees) account for 92% of all Missouri manufacturers and 32% of the state's manufacturing workforce. By contrast, in 2021 larger manufacturers (with at least 500 workers) accounted for 1% of Missouri manufacturers and 31% of manufacturing jobs. Prior to the pandemic smaller Missouri manufacturers experienced slower growth than larger manufacturers, but by the end of 2021 smaller manufacturers had surpassed their pre-pandemic levels while larger manufacturers had not yet returned to their pre-pandemic levels.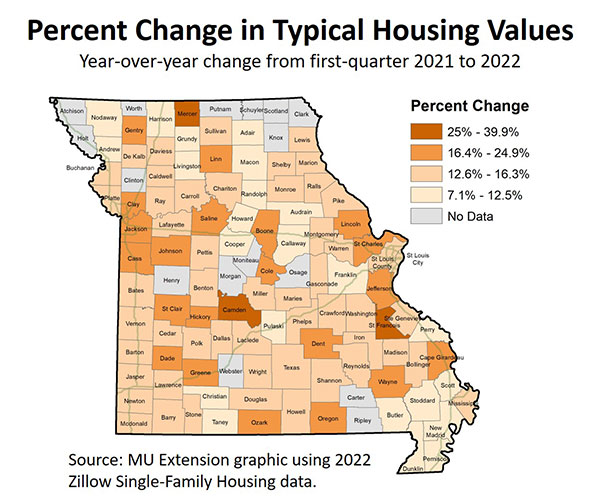 The recent growth in housing prices has received lots of attention, as rising mortgages rates and more expensive homes can deter would-be home buyers. In the years leading up to 2020, Missouri and U.S. home values steadily rose at an annual rate of 5%, but over the past two years several factors have driven double-digit annual growth rates. The growth rate varies across the state. View the Missouri county-level map to see how the growth rates in your region have changed in the past year.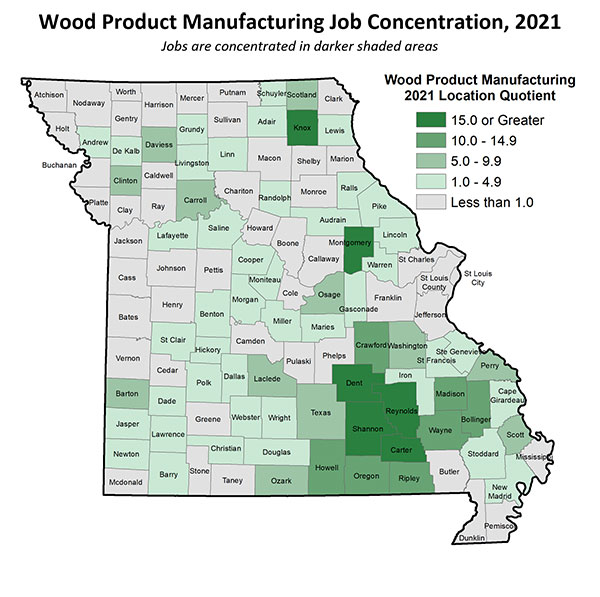 Forests cover 15.4 million acres—or one-third of Missouri's landscape. In 2019, Missouri's most harvested tree species by volume were red oak (44%), white oak (28%), and hickory (7%). Missouri wood product and paper product manufacturers account for almost 6% of the state's manufacturing jobs—similar to the U.S. average. Most wood product manufacturing jobs concentrate in southeastern Missouri near forested areas and process the state's hardwoods. While the state's paper product manufacturers are more likely to locate near urban areas.
Graphic source: MU Extension graphic using 2021 EMSI Burning Glass and Bureau of Labor Statistics data. Location quotient (LQ) analysis shows the extent to which an industry concentrates in a particular region compared with the nation overall. An LQ of 5.0 means an industry is five times more concentrated in jobs than the national average.
---
---