Adding value to the family farm business, Inland Cape Rice Mill - Scott City, MO
Published:

Tuesday, Oct. 11, 2022

Sam Schneider and his wife eat rice at every meal, so transitioning the family farm into growing rice was a challenge he was happy to take on.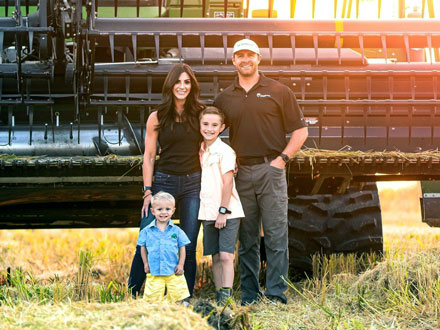 "As I got more involved in the business, I thought we should transition more into rice because we have really good ground for it. Also, we have an abundance of water — very moist conditions — all the time, and rice thrives in those conditions," said Schneider, owner of Inland Cape Rice Company in McClure, Illinois, and Inland Cape Rice Mill in Scott City, Missouri.
"Roughly 60% of rice produced in the U.S is consumed by humans," Schneider said. "A lot of corn and soybeans are used for fuel or feed and we [the U.S] are exporting a lot of that to China, whereas rice … we mill it and we process it and it's ready to eat."
Labor Day weekend 2019, Schneider launched the Inland Cape Rice brand. That New Year's Eve, at the hospital with his wife and newborn son, Schneider was getting the product set up on Amazon.
"That was really where we were kind of starting to get going, and then a few months down the road after that was COVID," Schneider said.
At the onset of the COVID-19 pandemic, the local rice mills were overworked and selling their product on an extremely high margin. "Guys that usually didn't do any retail business at all were beginning to sell rice on the retail market," Schneider said.
The inventory Inland Cape Rice Company had at that time sold quickly, but they ran out of inventory quickly as well, learning where the problems were with their business.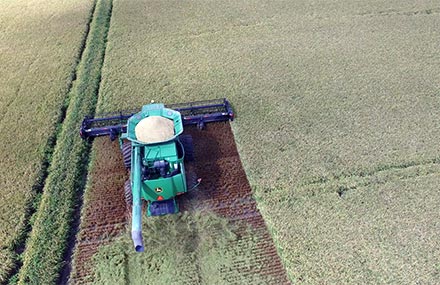 So, despite the admonitions Schneider and his wife heard again and again from the "sharks" on their beloved TV show "Shark Tank" not to manufacture if you don't have to, to always use a co-packer, they decided to invest in their own mill.
Schneider pursued a few small grants through the Missouri Agricultural and Small Business Development Authority (MASBDA) to develop a feasibility study and business plan for the mill. Certain that he could find someone who could help develop those documents at Southeast Missouri State University in Cape Girardeau, he called there and got connected with business development counselor Jakob Pallesen at the Missouri Small Business Development Center (SBDC).
The first step was to develop the feasibility study.
Pallesen said agricultural business feasibility studies were not something he had a lot of experience with, but he was familiar enough with them to sit down with Schneider and figure out what needed to be done.
"Sam is the kind of person who — he knows what he needs to do and he's gonna go and do it," Pallesen said. "What he's really looking for is input and perspective and someone to figure stuff out with. He knows that we don't just magically have the answers, but we can help provide that perspective and guidance along the way and help connect to the right resources that are needed."
Once the feasibility study was completed, Pallesen and Schneider moved on to creating a full business plan.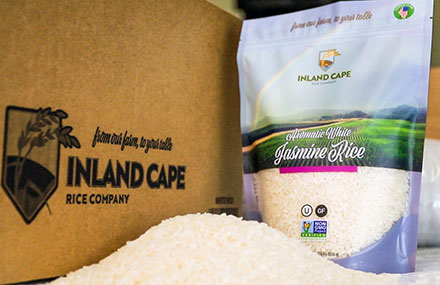 "The feasibility study was the first step in getting ready for the U.S. Department of Agriculture Value-Added Producer Grant (VAPG)," Pallesen said. "For the actual VAPG, we also assisted Sam in the full business plan, financial forecast, and other grant application materials."
"The VAPG will be essential in helping us expand the market for our specialty rice varieties," Schneider said. "This project will not only add value to our family farm, but it will also help create other value-added markets for other local producers in the area."
"You start owning the value chain and then you start adding more value, you have a stronger business model," Pallesen said.
Schneider said that he always felt it was his responsibility to take the family farm to the next level, more by adding value than by adding acreage, which is growing increasingly expensive. With the addition of the Inland Cape Rice brand and the mill, he is well on his way.
Website: https://inlandcaperice.com
Facebook: https://www.facebook.com/inlandcaperice
Instagram: https://www.instagram.com/inlandcaperice
Pinterest: https://www.instagram.com/inlandcaperice
YouTube: https://www.youtube.com/channel/UCLhvB3ypNDgjuSxL3OaHZXA
Writer: Victoria Stokes