Birth of a franchise, DocuLock - St. Joseph, MO
Published:

Monday, May 9, 2022

"Our first quarter sales this year almost exceeded our total sales of last year because of a paradigm shift in how we do business," said Paul Janicek, owner of DocuLock in St. Joseph, Missouri.
Janicek attributes that shift to the open-heart surgery he went through in 2020.
"I was sitting in the recovery room, and they had me on such a cocktail of stuff that I couldn't even look at my phone," Janicek said.
So, he sat in a chair for five days with nothing to do but think.
"I thought, there are two ways to grow this organization … we can do corporate growth … or we can look at franchising," Janicek said.
Two months later, after teaching a class on entrepreneurship for the United Steelworkers Union, Janicek was approached by a participant who said he wanted to get in on Janicek's franchise.
But Janicek didn't have a franchise — yet.
That person's query confirmed in Janicek's mind that franchising was the way to grow DocuLock. So, he spent the next year building a franchise model, and in November 2021, his franchise disclosure document and agreement were approved.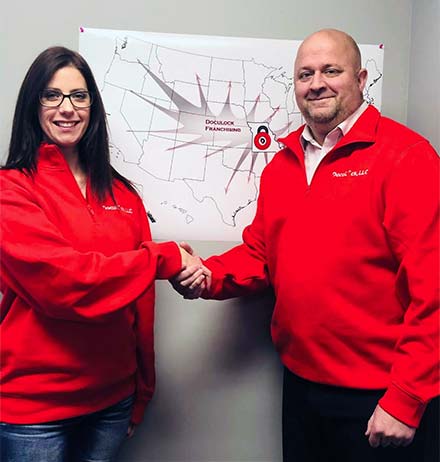 Paul Janicek (right), founder of DocuLock, awarded the first DocuLock franchise to Tonia Jodoin in January 2022.
The first two DocuLock franchises were awarded in January and February 2022. And DocuLock's sales for the first quarter indicate that franchising was, indeed, the way to grow.
DocuLock, which celebrated its five-year anniversary in April, offers document scanning, archiving and secure shredding services. Janicek credits the COVID-19 pandemic with not only more clearly revealing but also accelerating the need for documents to be securely accessible from wherever employees happen to be working.
"It was important before, but now it's pretty much an essential service for all businesses," Janicek said.
Another service Janicek believes is essential for businesses is the Small Business Development Center (SBDC). He is so convinced of the value of the SBDC that he has made connecting his franchisees with their local center a step in the onboarding process.
Janicek first contacted the Missouri SBDC at Northwest Missouri State University (NWMSU) in St. Joseph for assistance a little over a year after founding DocuLock. "When should I have done this? About a year before that," Janicek said.
"I'll be the first to admit that I made a bad move by not engaging with [Rebecca Lobina] and the SBDC earlier on," Janicek said. "I made the hubris mistake of thinking I knew enough about it to drive forward with the mission. That was a bad mistake."
Lobina, director of the SBDC at NWMSU, met Janicek at a Chamber of Commerce meeting before he became a businessowner. But he had been thinking about opening a business, so he scheduled a meeting with her during which they discussed a different business venture he had in mind at that time.
The need for help with lead generation for DocuLock is what drove Janicek back to Lobina and the Missouri SBDC in 2018. Before she would talk about leads though, Janicek said she made him back up a step. "She kind of looked at me and said, 'Look, you've got a great idea. This is cool stuff, but let's take a look at your business plan.'"
Since then, Lobina has been Janicek's sounding board.
"He'd come to me with ideas, and I would give him some pushback sometimes and make him think about whether it was what the market wanted or what he thought the market wanted," Lobina said.
In addition to guiding him on the customer discovery process and providing lead lists, Lobina has introduced Janicek to some people who handle document control at organizations such as the city of Maryville and NWMSU.
Another NWMSU introduction led to plans to partner to support student entrepreneurship.
"I think it is so exciting to help somebody at the very beginning of their journey as an entrepreneur," Janicek said.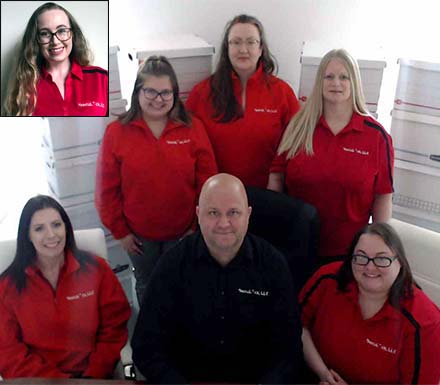 Paul Janicek (center) surrounded by the DocuLock staff, including one staffer who works remotely (inset).
In the meantime, Janicek is striving to be a model franchisor.
He is developing an operations manual to share knowledge with his franchisees.
"My operations manual is something I work on literally every day," Janicek said. "As we face new situations or find better ways to handle others, that knowledge gets added to the manual so that franchisees don't have to figure it out on their own."
He has set up large territories that will enable his franchisees to grow their businesses.
Janicek said he gets lots of questions about why he didn't break his franchise up into smaller territories. You can make more money, he is told. "It's not about the money part for me." Janicek said. "That will come. Money is a byproduct of offering a service of value. Being able to offer these large territories gives the right person the ability to just grow it into whatever they want."
Plus, he has consulted with Robert Edwards, who does critical reviews of franchises on the Franchise City YouTube channel.
"I reached out to him and said, 'Look I'm not a franchisee, I'm a franchisor, but I'd love to find out how I can avoid being a totally terrible franchisor and, you know, I would love some guidance' because he does critical reviews of franchises and, also, to be honest, I don't want to be on there," Janicek said.
Janicek aims to have 20 franchisees by the end of next year and to have all of his Missouri territories locked down by mid-2024.
"He is so very innovative," Lobina said. "I have no doubt that he's going to continue to be successful."
Website: https://doculockllc.com
Facebook: https://facebook.com/DocuLockLLC
LinkedIn: https://linkedin.com/company/doculock-llc
Writer: Victoria Stokes