Brandt Contracting, Inc. — St. Peters
Published:

Sunday, June 14, 2015

Sedrick Brandt, president of Brandt Contracting, Inc., a certified minority and veteran-owned firm, is used to things being up in the air.
He regularly jumped out of perfectly good airplanes as a member of the storied 82nd Airborne.
He's also down to earth — "I'm in the dirt business," he says. Brandt Contracting specializes in site and structural excavation, site grading and clearing throughout Missouri, especially the St. Louis area.
After landing safely back home in the St. Louis area, Brandt spent 25 years as a heavy equipment operator, finding time for marriage, two children and a degree in computer science from Maryville University, Chesterfield.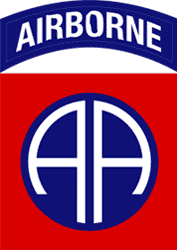 He also discovered he had an entrepreneurial bent. His first business was a cleaning franchise. He worked as a heavy equipment operator by day and managed up to 10 people by night — "I had energy back then!" he laughs. He's also worked in satellite operations for Edward Jones. The brokerage firm relies on satellites to connect its thousands of far-flung offices in the U.S. and Canada.
But his business side didn't truly take off until 2006-07, when he was approached by the Regional Union Construction Center, a nonprofit founded to increase minority- and women-owned union construction firms in the St. Louis area.
"And I thought, 'Well, that's something I know, the dirt business,'" he says. The center also helped him form an advisory board, an excellent idea for any sized business, to provide input, suggestions and direction.
Brandt launched his earth moving and excavating business from his home in 2007. Little did he know the soaring economy would soon fall to earth.
"All I knew was tough times," he says.
But troopers don't give up, and Brandt persevered, undertaking a variety of projects throughout the metro area. Over the years, he has undertaken small and large-scale projects, from helping renovate the iconic Falstaff Building and Ivory Theater; working on an Ameren UE substation, half a dozen road projects, taxiway and roadway work at Lambert Airport; even the gleaming new Ballpark Village.
Brandt was introduced to Kevin Wilson, director of the St. Louis Small Business Development Center, and through him, Carolyn Jones of the Missouri Procurement Technical Assistance Centers (MO PTAC) in 2013. Both are part of the University of Missouri Extension Business Development Program. Jones immediately got to work, discussing the wisdom of becoming certified as a veteran-owned small business and applying for the SBA's 8(a) program, both of which help small, disadvantaged businesses like Brandt's compete in the marketplace. She also introduced him to the intricacies of government contracting and how to find and bid on contracting opportunities through the FedBizOpps system.
As a result, Brandt secured his first federal subcontract less than a year later, a nearly $720,000 contract to construct gunnery range berms at Fort Leonard Wood.
"Carolyn and PTAC have been instrumental in helping me understand the government side of things," he said. "Carolyn helped me understand that contract. I was new to government lingo," he says, and sometimes found the verbiage bewildering. She even helped him write letters requesting extensions due to inclement weather.
Now he bids on and secures projects he would never have thought of before, such as cleaning up potentially toxic mine tailings for the EPA. He also says he now understands the system well enough to bid on prime contracts.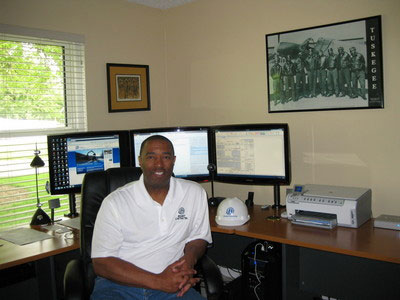 Sedrick Brandt, president of Brandt Contracting, Inc. in his office in St. Peters, Mo.
"So here I am, going into my eighth year," he says, with revenues of up to $2 million annually and up to 35 field employees. "I feel like I'm on a growth path now, small as it is. I spent a lot of time learning the business, understanding costs, how to make money, what jobs to go after and which not."
Computer science, airborne operations, satellites — might Brandt soon take off in new directions?
"No!" he laughs. "I like the dirt business. It's what I know. My focus will continue to be to grow this company, see what it evolves into."