Published:

Monday, Oct. 7, 2019
Seeing ads on social media can seem like a nuisance in day-to-day life. But when Charisse Smith saw a Facebook ad for Matterport cameras in early 2019, she decided to turn it into a business. Now, CAPTVR3D of Columbia, MO offers online virtual tours and 3D imagery to other businesses and people in the area.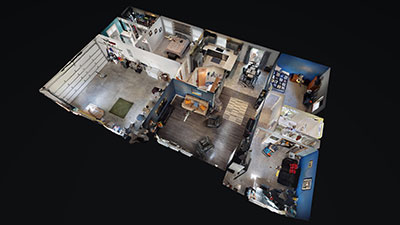 A spark of genius gave Smith the passion for her business, but she wasn't sure where to start. With a college degree in philosophy, she felt unprepared to take her idea and turn it into something achievable and practical. That's when Smith found David Steffes, the central region director of the Missouri Small Business Development Center (SBDC). She had the dream, and he had the knowledge and means to make it possible.
Steffes started out by reassuring Smith that her idea was not only good, but that it was profitable in her region. He gave her the confidence to pursue the business, and it only took off from there.
"Having someone who has seen businesses work, and hearing him say that it was a viable business, was really big," Smith said.
Smith and Steffes started working together right away. He assisted her with the steps to get started, who to reach out to, and the deadly pitfalls that can destroy a business. Once the name "CAPTVR3D" was secured and equipment was purchased from Matterport, they developed a business plan that would take her well into her first year of business and ensure success in the future. Smith soaked up every resource Steffes gave her, and used that knowledge to create a website and social media accounts to start spreading awareness of her new business.
It was slow going at first. 3D imagery is a technology that is new to the area, and Smith wasn't sure how to find clients that came from her ideal marketplace. Steffes, however, knew just who to reach out to. They brainstormed ideas of businesses in the community who may be interested in the services CAPTVR3D offers. These "Networking Lessons," as Smith calls them, provided her with the leverage to start getting her name out there. Once that barrier was crossed, people started coming directly to her.
As the business started taking up more time, Smith's husband, Ryan Smith, left his teaching job to help out full time. Now they work together, and Steffes and the Missouri SBDC team continue to be there through each step.
"Having that resource in the community is huge for anyone who is looking to solve a problem or add something to the marketplace that hasn't existed before. It's a huge resource and gives opportunities that even as an educator I had no idea were out there," Ryan Smith said.
As CAPTVR3D looks to the future, they have plans even bigger than their original idea. They hope to expand outside Columbia and possibly even travel out of state to bring 3D imagery directly to the hands of their clients. While one camera is enough for now, Smith has a goal to bring on more equipment so that they can offer more services. She even expresses interest in collaborating with local business personnel to produce more technology-based virtual tours. Wherever Smith and her husband end up, one thing is for sure- they will continue to work with Steffes and the SBDC to grow and strengthen their business.
"We're not there yet, but we're getting there," Smith and her husband said together.