Civil Design Inc. — St. Louis
Published:

Monday, Nov. 14, 2016
As an eight-year-old, Vicki LaRose, co-founder and president of Civil Design Inc. (CDI) — a certified Women Business Enterprise and Disadvantaged Business Enterprise construction management, site development, surveying, transportation and water resources firm based in St. Louis with satellite offices in Granite City and Effingham, Illinois, and Louisville, Kentucky — wanted something different.
Not a pony. A puppy, or a kitten. Not even a dollhouse.

She wanted a calculator.
"I just begged and begged for a calculator — they were very expensive back then — and my mom and dad must have wondered, 'Why on earth would she want a calculator? She'll just end up ruining it.' I just loved pushing the buttons."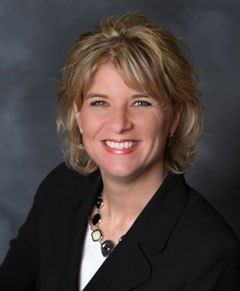 Vicki LaRose, co-founder and president of Civil Design Inc.
From an early age, LaRose, who grew up in a small town in southern Wisconsin, loved and excelled in math. Her graduating class consisted of 86 individuals, and she remembers the smartest kid in her class, also a math and science aficionado, said he was going to be an engineer. That idea pushed all the right buttons for her.
So she took an introduction to engineering class at a junior college. When asked by a professor what engineering specialty she favored, she responded, "There's different kinds? Oh great!" But she fell in love with civil engineering.
This love saw her migrate south to complete a bachelor's degree in the field from Southern Illinois University–Edwardsville then a master's from what's now Missouri University of Science and Technology in Rolla. But she wanted to do more than make money. She wanted to help save the world, or at least make it a better designed, more livable place. So she and her husband Dennis, also an engineer and currently the firm's quality manager, founded CDI in 1996 in part so LaRose could be a stay-at-home mom for a little one. The little ones are not so little now, at 18, 15 and 10.
"Many firms just look at projects, not what they can do for the community," she says. "I like civil engineering because it's the backbone of society. It helps everybody. Everybody uses roads and water."
This humanistic philosophy has seen CDI grow from just one employee and negligible returns to a certified Women Business Enterprise and Disadvantaged Business Enterprise (both plusses working with government) firm of more than 30 employees, four branches and revenues that more than doubled from $2.2 million to nearly $4.5 million in two years. In the process, CDI and LaRose have garnered such honors as the Small Business Administration's Small Business Person of the Year, St. Louis Business of the Year and the American Council of Engineering Companies' Honor Award for Engineering Excellence.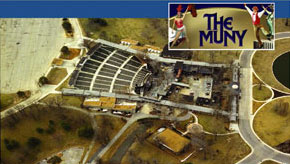 CDI helped renovate The Muny in Forest Park in St. Louis.
If you've driven on South Broadway in Soulard, Clayton Road in Frontenac, the I-64/Highway 40 interchange or Ferguson Avenue bridge, among many other sites in Missouri, you've reaped the benefits of CDI's work ethic and expertise. When pressed for her own favorite projects, she lists two wildly dissimilar jobs: Building a small pond and building miles of drainage for the mammoth, $400 million plus Gateway Arch renovation project, expected to be complete in 2016.
What's the commonality?
"I guess my favorites are the ones where we can come in and really help people. Our client wanted a one-acre pond, but he didn't have enough money. So I said, 'How about a smaller one?' And we made a smaller pond, and kids can now fish out of it. And I'm very proud of the work we've done on the Arch grounds. That's something we've really wanted to do, to help change the face of St. Louis and maybe create a catalyst for changing the whole city.


CDI performed all civil engineering for the MU Life Science Business Incubator in Columbia, Missouri.
"When you can make a big impact on someone's life like that, you've changed people's lives."
LaRose says she couldn't have done it without the Business Development Program (BDP).
Over the years, several counselors have worked with the company: Kevin Wilson, director of the St. Louis Small Business and Technology Development Center (SBTDC), a BDP program, helped LaRose obtain financing at a crucial time; Chris Bouchard, statewide SBTDC director, helped implement a balanced scorecard, used to analyze, track and predict performance; Aldis Jakubovskis, St. Louis SBTDC business development specialist, performed financial projections and analysis; and Luis Ortiz, also a St. Louis SBTDC business development specialist, serves on the firm's advisory board. An advisory board is a good idea for any business, not just a multistate, multimillion dollar engineering firm.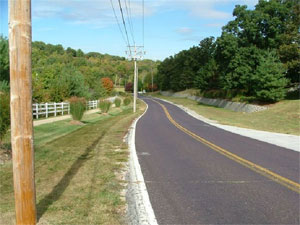 CDI widened Old State Road, Wildwood, Missouri, and connected the road to a residential subdivision.
But LaRose singles out Greg Tucker, former St. Louis SBTDC business specialist and now SBTDC associate state director, for praise.
"I cannot say enough about the impact Greg Tucker has on our business," LaRose says. "I contacted him for some advice on weekly meetings years ago and it turned into strategic planning, which we were just about to hire someone to help us with; an advisory board, very helpful in our planning sessions; and scorecards, which has been a great way for us to keep our business on track.
"Without Greg, we would have spent many dollars hiring someone to help us plan. Instead we have used those dollars to hire someone. Nothing gives me greater pleasure than to give someone a job. I feel with their [the BDP] help we have a path for the future to continue our smart growth. They've stepped in at the right time and did all the right things, been a true partner. Thank you for this program! It really helped my small business succeed."
Civil Design, Inc. update
Congratulations to Vicki LaRose, co-founder and president of civil engineering firm Civil Design Inc. (CDI), St. Louis, on her firm being named a Five-Star Workplace! Read the story in St. Louis Small Business Monthly (page 28).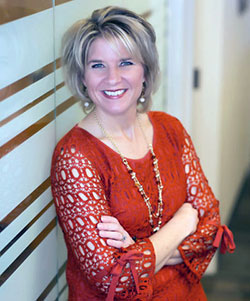 Vicki LaRose, Civil Design Inc.
The Small Business Monthly notes CDI's family friendly policies, workplace flexibility, trust and investment in employees.
Says one employee: "Our company leaders give us the trust and freedom to do our jobs … The result is that everyone is motivated to take ownership of our projects and client relationships, and we all focus on quality instead of task completion."
This article was first published on October 14, 2014.