College Coaching Network – Grandview, MO
Published:

Friday, Dec. 6, 2019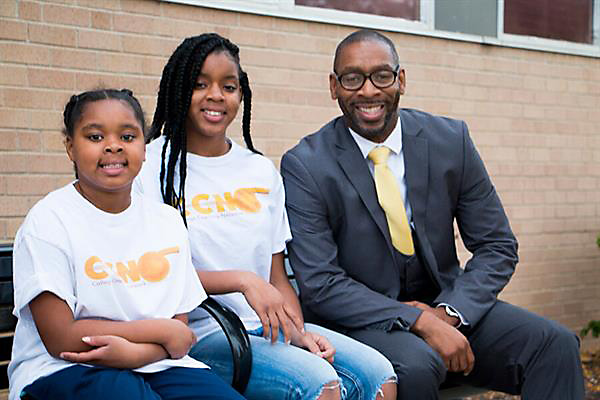 When it's time for high school students to consider college, it can be tough and sometimes expensive to navigate the application and scholarship process. That's where Claude Harris and his company, College Coaching Network, fills a needed niche.
Initially, Harris, founder and CEO of the company, started the College Coaching Network as a private consulting service geared towards helping families through the college planning process.
"We discovered that every family could not afford to pay for premium college planning services and the rising cost of college simultaneously," explains Harris.
So, he set a new goal for the company: to assist families who could not afford a college planning service and to make higher education more accessible to all students. A large part of this new vision was a scholarship app. But to attain this goal, Harris would need some help.
In January of 2018, Harris sought assistance from the Missouri Small Business Development Center (SBDC) hosted at the University of Missouri-Kansas City (UMKC). There, he met with business consultant Rebecca Gubbels and technology development consultant Jill Meyer.
Harris received business coaching and counseling from both Gubbels and Meyer. They helped him make improvements to his revenue model and business canvas as well as provided him with resources to grow. Later, he was able to participate in a FastTrac TechVenture course offered by the Kauffman Foundation through the Missouri SBDC hosted at UMKC.
With the help of the SBDC, the College Coaching Network was able to grow while Meyer and Harris focused on technology, specifically the app that Harris wanted to develop.
"They provided clarity for my vision, a plan of action, and networking opportunities that have opened doors that would have taken me decades of validation to pursue," says Harris.
One opportunity that Harris decided to pursue was funding from Digital Sandbox KC, a program that seeks to help startups by providing market validation, prototyping, and beta testing for developing technologies. After delivering a pitch, Harris received funding from Digital Sandbox to develop an app for College Coaching Network.
As a result, College Coaching Network now offers a scholarship app which provides training and a 24/7 chat service that supports the work of college guidance counselors. Both have been successful and in high demand by students.
The company also offers a college roadmap to help students prepare for college admission at any stage in high school. This program provides career assessments to help students identify their strengths and see potential salaries for different careers. They can also learn how to evaluate a college for their needs, maximize financial aid, and identify and apply for scholarships.
Now that his business is moving forward, Harris is still carrying out his mission to help students plan for the future. And he is starting in his own community: Kansas City.
The College Coaching Network has partnered with many youth organizations, high schools, and employee benefits programs in Kansas City, including Big Brothers Big Sisters, Grandview School District, the Urban Rangers Corps, and the YMCA. Individuals in these organizations now have college and career life coaching offered to them through College Coaching Network.
Its connections within the community and dedication to its mission has made Harris' team stand out from other small businesses. They have received several awards, including the YMCA Pacesetter Award and Spirit of Service Award. The College Coaching Network has also been recognized as one of the Top 10 Rising KC Startups.
Original story at from Missouri SBDC at UMKC.