Creating a legacy through business and philanthropy — Joe and Judy Roetheli
Published:

Monday, Feb. 3, 2020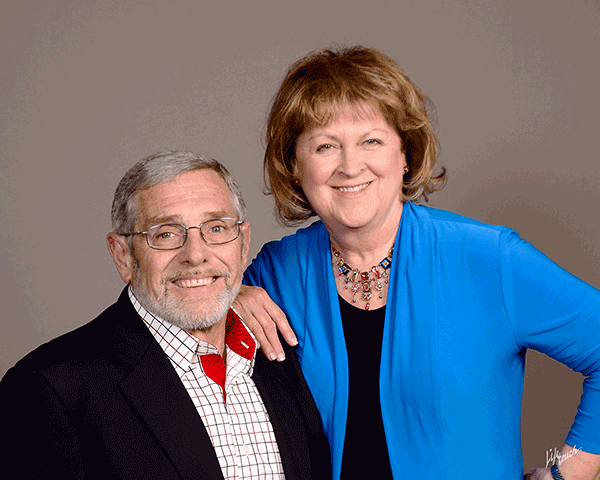 Joe and Judy Roetheli have been recognized as the Missouri Small Business Development Center (SBDC) "Most Impressive Client"! In celebration of the America SBDC's 40th anniversary in 2020, the Missouri SBDC is honoring the Roethelis' ingenuity for solving problems, continued business success, and philanthropic drive to help others locally and abroad.
In 1996, Joe and Judy worked for the U.S. Department of Agriculture and as a substitute teacher, respectively. They had no plans to accomplish something new and innovative, but luck was on their side. The Roethelis' two sons, Steffan and Michael, each had a Samoyed dog. The dogs developed terrible halitosis that would 'send family and friends off the deck' seeking relief from the foul odor. Judy bought products from veterinarians and pet shops but achieved no success in reducing the stench.
Then Judy had an idea: persistently implore her life-long, dog-loving husband, Joe, to resolve the halitosis issue. Judy had the confidence that Joe was so dog-centric that he could, and would, solve the problem. She passionately and persistently kept urging her husband. Ultimately, Dr. Roetheli had to yield and try to soothe his wife.
Joe read journal articles on the topic for insights. He used his livestock knowledge from growing up on a farm and ideas from his work at the USDA to develop a formula using several dry ingredients. Then he gave it to the dogs and they loved the concoction! So, Joe continued to provide it to the dogs. About two weeks later, to his surprise, the breath of both dogs was improved.
Now, the Roethelis had the basics in place for a product, but they possessed no knowledge, financial resources, or experience in leading a business. They learned of the Missouri SBDC at the University of Missouri- Kansas City, and were matched up with counselors Larry Lee and later Reuben Siverling. The advice and guidance of Lee and Siverling originally focused on the Roethelis' attempt to meet a market need of their own–to clean and freshen the horrid halitosis of the family's dogs. Together, they named their new business S&M NuTec, after the Roethelis' sons, and started selling their product, Greenies®.
"We were very grateful. We had no idea what to expect when we began, we just knew we needed help NOW!" Judy said.
Greenies® did not find success overnight, though. It took a lot of hard work, but the SBDC was there every step of the way. Lee assisted with the basic skills of starting and operating a business and placed the Roethelis in contact with potential business partners. Siverling helped the Roethelis with financial assistance, including equipment leases. Both counselors guided them and helped them know what the next step was for S&M NuTec.
"Joe and Judy were truly wonderful clients to work with. Not only did they care about their business, but they also were caring about their employees and suppliers. Judy was nicknamed the Credit Card Queen as she worked her "spreadsheet" to make sure she was not paying excessive rates…she was good!" said Lee.
When the original Greenies® product finally 'caught fire' in the summer of 2000, it ignited a 'rocket ship' of growth that continued over the next five years. After over five years of toil and over a million in sales the previous months, and assistance from mentors, suppliers, and Siverling, they secured their first bank financing with a Small Business Administration loan. It was truly a boot-strap operation with help from a major supplier on accounts receivable, partnering activities, and sacrifice, all wrapped into one goal: keeping S&M NuTec moving forward.
"From our very first meeting with Joe and Judy twenty years ago and the subsequent introductions and meetings with bankers, participating partners, personal friends, SBA Counselors, and countless others, Joe and Judy brought their most important offering: integrity!" Siverling said. "Many challenges and disappointments followed our first months and years together, but the solid integrity and loyalty of Joe and Judy has never wavered."
Over the next five years, the Roethelis acquired another young product branded as Pill Pockets®, and they sold their two main products in all 50 states. They also embarked on exporting these products to more than 60 countries around the world, on six out of seven continents. They began with no business experience, no appreciable financial resources, and no more than an eighth-grade education—with the SBDC's help, they simply applied themselves and succeeded. They used many non-traditional approaches and built an inviting culture for their employees.
With an outstanding, inspired, and motivated staff, S&M NuTec, Greenies®, and the Roethelis received over 4 dozen major awards and honors between 2002 and 2006. These awards include: induction into the ERNST & YOUNG ENTREPRENEURS HALL OF FAME in 2002; the American Business Association's STEVIE AWARD as The Best Company in America with under 100 Employees in 2005; and Petco's Vendor of the Year in 2004 and again in 2005, plus Exporter of the Year at local, state, and national levels.
In May 2006, just ten years after the Roethelis started mixing ingredients in the kitchen for their dogs and having no business experience, the Mars Company, both a huge candy company and the largest pet food/treat company in the world, acquired 100% of S&M NuTec, including the Greenies® and Pill Pockets® brands.
However, S&M NuTec was simply the beginning of Roethelis' entrepreneurial journey and relationships with Lee and Siverling. The Roethelis devoted considerable compensation from the sale of S&M NuTec to their family foundation, The Roetheli Lil' Red Foundation. It has five basic areas of focus: Third World Assistance, Pet Therapy, Entrepreneurship, Inspirational Books, Stories, and Doc Films, and Special Circumstance. Joe and Judy find great pleasure in helping others and say this work is by far the most gratifying work of their lives. The most impactful achievement of The Lil' Red Foundation has been the building of five villages in Guyana, South America, for homeless and needy people in conjunction with Food for the Poor. In addition to homes with sanitary facilities, four of these villages include a school and retail store. All have a community and worship center, several have clean water delivery systems, and three have micro-enterprises. The Foundation has also built homes in Guatemala and Haiti and a deep well for safe drinking water in Malawi, Africa that now serves 20 villages.
"We grew up in families with very little, but families that still were giving. So, we have always believed in sharing what we had. Now, we had more and we could really help others in new and expanded capacities," they said.
Today, the Roethelis continue as entrepreneurs, still relying on the advice and counsel of Lee and Siverling that began nearly 25 years ago. The Roethelis built one of the best spas in the Midwest that was honored twice as the "Best Spa in Kansas City" and owned a café that earned a bronze award as the "Third Best Restaurant for Lunch in the KC metro area".
Recently, the Roethelis founded SM Products, an innovative power tool accessories company selling under the brand name Spyder®. SM Products sells innovative tools to companies like Lowe's, Menards, Grainger, Ram Tool, and Ace Hardware. Lowe's recently honored Spyder® with a 2019 Innovation Partner of the Year Award. With a focus on product differentiation and brand-building, all of which were recommended by Lee and Siverling, the sales of SM Products are now growing very rapidly and include business relationships in Europe, Asia, and Australia.
To round-out their entrepreneurial trek, the Roethelis have returned to the pet industry where they are launching another ingenious pet treat that has already garnered 3 patents with two more under consideration. In October 2019, their new pet treats branded as Yummy Combs® began appearing on shelves in independent pet retail shops, and PetSmart will be launching the product in April 2020.
The Roethelis continue to grow and achieve success as business people, even after almost 25 years. They maintain their relationships with Lee, Siverling, and the Missouri SBDC, and pride themselves on giving back to their community. The Roethelis offer this advice for others to consider:
Learn people's personality styles and use this information when talking to others.
Enlist key mentors for advice and counsel–not just for addressing business and technical matters, but also a mental mentor for the tough times in life.
Act rather than procrastinate; revise course if necessary.
Develop a plan for your life and think, learn, and work hard to achieve your 'Desired Epitaph'!