Elemental Enzymes Inc. — Columbia
Published:

Sunday, Oct. 18, 2015

Research and business partners Drs. Brian and Katie Thompson have collaborated on two new developments in the past year. As husband and wife, they are the proud parents of Luke, their 10-month-old son. As biological scientists, they are the proud founders of Elemental Enzymes Inc., their 5-month-old technology startup business in Columbia, Missouri.
Luke brings joy and challenge to their lives, as any parent can attest after the arrival of a newborn. Currently his biggest project is learning to walk.
Elemental Enzymes also brings challenges and joy, as any freshly minted business owner can attest after founding a company. Challenges include deciding on the type of business, choosing a name, searching for backing and selecting the proper location. Determining solutions to those challenges brings the joy.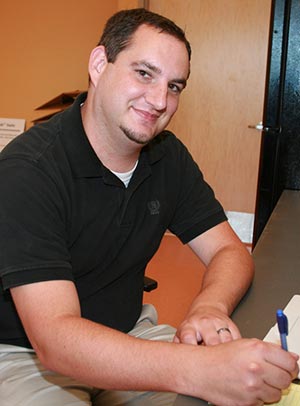 Dr. Brian Thompson's postdoctoral research in enzyme production at the University of Missouri led him to found Elemental Enzymes in early 2011.
"We see ourselves as a 'greentech' company," says Brian, president of the firm. "We make enzymes to address personal and industrial contamination problems. We make them in a unique fashion that makes them less expensive and more stable than other enzymes. Greater stability allows the product to last longer and do the job the client needs it to do."
Those clients could come from a range of fields — bioenergy, oil production, pharmaceuticals, environmental remediation — any business that finds itself in the position of needing high efficiency enzymes.
"We can design enzymes to remove pesticides, heavy metals like mercury and chromium, pharmaceutical residues, and remnants of explosive compounds such as TNT and C-4, among other applications," says Katie, chief researcher, vice president and CFO of Elemental Enzymes.
The idea for the company came from Brian's postdoctoral work at the University of Missouri. After earning his doctorate in diagnostic medicine and veterinary pathobiology at Kansas State University, he came to MU to conduct bacterial disease research. One of Brian's side projects at MU lead to a discovery of a new way of producing enzymes. Collaborating with veteran MU scientists-George Stewart, chairman and professor of veterinary pathology, and Chung-Ho Lin, research associate professor of agroforestry-Brian perfected new enzyme production processes that are being patented by the university.
(Note: MU's intellectual property policy is similar to most research universities: when university researchers develop a patentable product or process, it becomes the property of the institution.)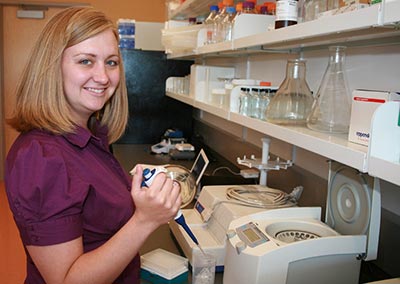 Dr. Katie Thompson, vice president and chief researcher at Elemental Enzymes, prepares specimens for analysis in the company's laboratory.
Soon after Brian left MU to form his company, he signed a licensing agreement with the university allowing Elemental Enzymes to use the patent-pending processes he developed during his stint as a postdoctoral researcher.
That licensing agreement was one of many steps in the business startup process. Brian took another significant step when he contacted the Missouri Small Business Development Center (SBDC) at MU's College of Engineering.
After completing several key business classes taught by staff of the SBDC Brian engaged the help of Paul Bateson, business counselor and tech commercialization specialist at the center, for assistance in setting up his company. Bateson encouraged the business novice to become fully educated about his key markets, helped with investor advice, and connected Brian to many useful resources and potential future clients. Additionally, Bateson assisted Elemental Enzymes in submitting several federal Small Business Innovation Research (SBIR) grant applications to pursue additional startup capital.
Brian originally called his enterprise Spogen Biotech Inc. But several people, including Bateson, strongly encouraged Brian to devise a more recognizable and easier to pronounce name. Hence, the moniker Elemental Enzymes was born.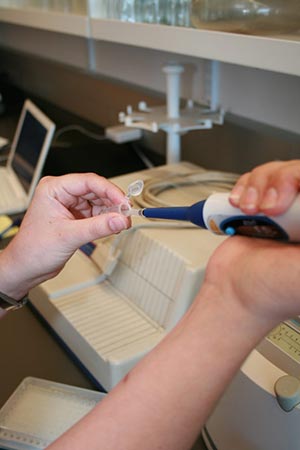 Close-up of Katie preparing specimen.
Bateson also helped Brian analyze and secure sources of startup funding. The company attracted funds from several private investors. That amount doubled this summer when the firm received approval of its application to the TechLaunch co-investment program at the Missouri Technology Corporation, part of the state's Department of Economic Development.
"Having this backing has allowed us to buy research equipment and lease excellent lab space at the MU Life Science Business Incubator at Monsanto Place," says Katie, whose research specialty is molecular, cellular and developmental biology. "Now that we're moved into our new lab we'll be able to take larger strides and make more research progress that will lead to additional product lines in the near future."
Chief among those strides is building products that meet the needs of potential clients. Two recently developed enzyme applications with direct market potential: lactase, an enzyme that breaks down sugars, for use by researchers; and lipase, an enzyme that breaks down oils and fats for bio-fuel applications.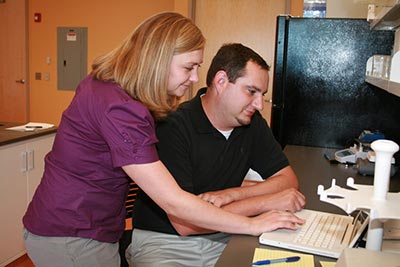 The two researchers, business partners and husband-wife team review research data in their new lab at the MU Life Sciences Business Incubator in Columbia.
"It's a great feeling to realize after more than a year of hard work we've arrived at the point where production and testing can take off," says Brian. "However, I know without Paul's guidance and the additional help we received from the SBDC, we would not be a company today."
Where are they now?
We first profiled Elemental Enzymes in 2011, shortly after the husband and wife team of Drs. Brian and Katie Thompson founded the firm. Elemental Enzymes develops customized enzymes for common environmental contaminants and other, nonenvironmental applications.

The couple worked closely with Paul Bateson, technology development and commercialization specialist with the Missouri Small Business and Technology Development Centers, a Business Development Program program; and staff of the Missouri Innovation Center, a tech incubator on the University of Missouri campus in Columbia. Assistance included helping them to become better educated about markets and investors, connecting the couple to useful resources and potential clients, and submitting federal Small Business Innovation Research (SBIR) grant applications for additional startup capital.
The company has since outgrown its Missouri Innovation Center space and moved into St. Louis County (it maintains a presence at the incubator). They have grown from the couple to 15 employees and made major strides on their first product, an enzyme compound shown to increase crop yield by 10 percent in adverse conditions. This product has enormous potential for crop sustainability and resilience without utilizing controversial genetically modified seeds.
That product has now proven its potential.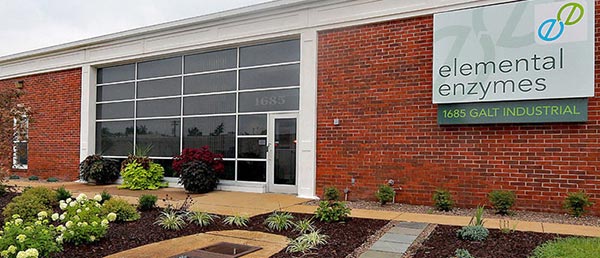 Elemental Enzymes' growth includes moving into new headquarters in St. Louis.
In late September 2015, the firm signed an agreement with Bayer CropScience, the agricultural arm of the German multinational, to use soil microbes to help improve plant health and improve crop productivity.
It's a true breakthrough deal. Bayer CropScience says the technology will help feed a world population projected to exceed 9 billion people by 2050.
"Bayer CropScience really brings a lot to the table, and we can mix that with some of our technologies and expertise," Brian Thompson said in an interview. "It's really a win-win collaboration to get together and develop the best products."
"We believe this research will advance the use of soil microbes as a key component of modern agricultural practices in the future," said Jim Blome, president and CEO of Bayer CropScience LP, in a statement. "This technology provides a unique opportunity to build on Bayer's industry-leading solutions by developing new products that offer growers a means of increasing yields on their existing acreage."
Read the Columbia Business Times article about Elemental Enzymes.
Read the Bayer Crop Science news release about Elemental Enzymes.
Watch the following 3-minute video about Elemental Enzymes (produced by Mizzou Creative for the Bringing Up Business 2016 Innovation and Entrepreneurial Recognition Dinner) via MU Economic Development.
This article was first published on September 20, 2011.