EnCircle Technologies — Columbia
Published:

Friday, Jan. 16, 2015
What happens when the school bus doesn't come to the door anymore?
By any standard, autism is growing alarmingly worldwide — some studies say as many as 3 percent of our children may fall on the autism disorder scale — and vocational options are few and far between after high school.
For every success story like Exceptional Minds Studio, Los Angeles, where young adults on the autism spectrum work on end titles, post-production visual effects, and rotoscoping for such films as Lawless and Dawn of the Planet of the Apes, there are dozens, perhaps hundreds of young adults unemployed and barely subsisting on Social Security or woefully underemployed.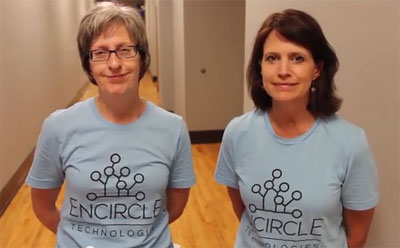 Becky Llorens (left) and Teri Walden, co-founders of EnCircle Technologies.
Teri Walden knows this all too well. She is mother to Cody, a 20-year-old with autism. Individuals like Cody often exhibit delayed social development, difficulty in social communication and interaction and a tendency to fixate on repetitive tasks and behaviors. For instance, computers, with their unique operation and intricate programs are all about repetitive tasks and behavior, a good potential match for individuals with autism.
The classroom Walden uses at Missouri United Methodist Church in Columbia, Missouri, has huge, sun-filled windows and numerous computer screens, because Walden, a teacher by trade, and co-founder Becky Llorens, a physician who's also mother to an autistic son, founded EnCircle Technologies in 2013 to provide students in mid-Missouri with more than marketable skills in HTML, CSS, Adobe Photoshop, JavaScript and other programs. They want to provide their sons and others like them a decent future. Autism is up to five times more common in boys for reasons still not understood.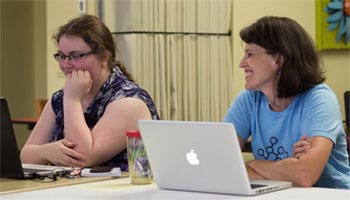 EnCircle student Jessica working on a laptop with Walden. (Photo by Jackie Wiehe)
The two women were assisted by Collin Bunch, business specialist with the University of Missouri Extension Small Business Development Center (SBDC) in Columbia, with business planning, research on potential markets and employers, an Indiegogo campaign that exceeded its goal in just one month, digital marketing, handling management duties and financial projections. While EnCircle will likely never be a mammoth revenue generator, it did turn a profit last year, which Walden and Llorens used to hire more trainers.
"Collin and the SBDC have just been wonderful," says Walden. "He's just been a godsend. He is such a heartfelt guy and showed real interest in us and the concept, always there to offer help when we needed it." She adds Bunch was a true consultant from the very beginning and they were proud to add him to their advisory board, a must for any business but especially a nonprofit like EnCircle.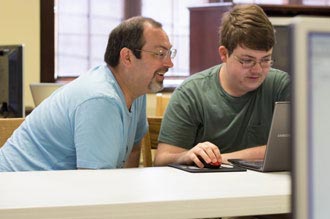 Brian Lloyd, EnCircle teacher and board member with his son, Ian. (Photo by Jackie Wiehe)
Bunch insists he's just nudged them, however.
"Becky and Teri are phenomenal women," he said in a previous interview. "They're smart, they know what they want, but they are also open to suggestions and take direction very well. A large part of my job is honestly just finding opportunities for publicity, then convincing them to be a little bold and take them." Bunch has facilitated key introductions to the business community and local press.
All three are also aware of the stigma attached to autism, and that it's a problem that's not going away.
"They (individuals on the autism spectrum) are rejected at an early age," says Walden. Cody had a definite diagnosis by the fifth grade. "They don't know the social conventions, they can do socially bizarre things, so they are bullied and rejected by their peers. They are never invited to hang out, never invited to birthday parties. It's ongoing and it's chronic. They become so beat down.
"Our mentality as a society is, You go to high school or college, then you get a job." That career path, she says, is far too often missing for individuals on the autism spectrum, and that is precisely EnCircle's function. "We are hoping to provide that missing educational piece." The founders are also pursuing a partnership with a local community college to help their students earn a technical certificate.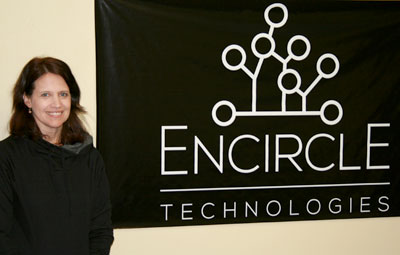 Teri with an EnCircle banner.
As for the one-on-one teaching some of her students require, Walden says, "This work is a joy to me. I love every one of these students. It's a joy to be working with them." She also does not perceive them as handicapped or victims. "To step up and take classes," she says, "to join the working world, I see that as courageous."
Learn more about EnCircle and how their SBDC specialist helped with their success in this video (2 minutes).