FireUP Your HR for Small Business
Published:

Tuesday, Sept. 8, 2020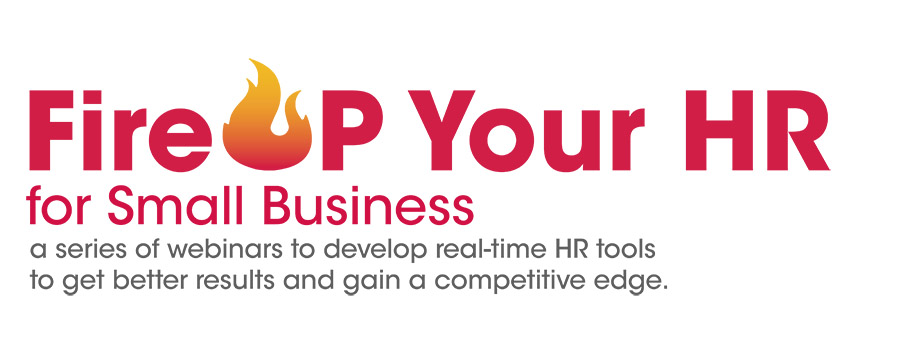 Seize the opportunity to develop real-time human resource (HR) tools in order to get better results and gain a distinct competitive edge. FireUP Your HR will address COVID-19 impacts on your employees and workplace, help you solve HR problems, and equip your business with the tools to set your company on fire. The series is funded by the Cares Act in response to the COVID-19 pandemic.
Series details & registration information
---
September 30 - November 11, 2020 - Full series registration here
11:30-12:00pm
September 30 - Workplace Combustion: COVID-19 Heats Things Up - Individual session registration
Has COVID lit your business on fire? Join us to learn how to take control of your workforce and fire up your HR. Learn how businesses are forging new ways and creating new opportunities.
October 7 - The Sparks that Fuel HR, Why is HR Important? - Individual session registration
Burn down COVID barriers, work on your businesses, not just in your business. Learn how Human Resources can fuel your business so that you are not consumed with stomping out the "small fires" like Employment law, legal responsibilities, and employee relations.
October 14 - Maintaining the Inferno of HR Systems - Individual session registration
Do you find yourself treading water, unable to escape the pandemic? Stop, drop, roll and take charge of your employee information so that in times of crisis your business is fireproof.
October 21 - Blazing through the Basics of Employment Law - Individual session registration
Has your emergency preparedness got you concerned and feeling uncertain about employee rights during Coronavirus? Join us to make sure your exits are well lit and ring the bell for HR compliance.
November 4 - Taming the Wildfires of Hiring and Interviewing - Individual session registration
Learn about the importance of tinder and when you should swipe left or right in legally interviewing and hiring candidates. In this session you'll learn about coronavirus' unexpected disruptions and other "red flags". Taking care to interview and hire legally can save you time, money, and aggravation later.
November 11 - HR Hero's On Fire! - Individual session registration
Circle around the campfire as small businesses share firehouse stories to help you quench your thirst for new ideas and sharpen your tools. It will be a sizzling good time as you learn how others overcome the challenges of running a small business during COVID.