Habitata Building Products — St. Louis
Published:

Wednesday, June 21, 2017

In an abandoned grocery store in a formerly abandoned St. Louis neighborhood, Habitata Building Products LLC, makers of Halcyon Shades, has brought American jobs back from Mexico and in the process transformed a neighborhood.
And folks have noticed. Habitata has won a 2013 Missouri Small Business and Technology Development Center (MO SBTDC) Excellence in Business Award, a St. Louis business of the year award, a state small employer partnership award and the 2012 Flag of Freedom Award for helping veterans secure meaningful careers.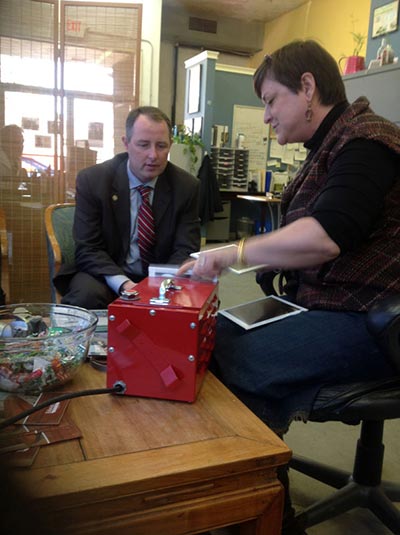 Rep. Neal Torpey, chairman of the Missouri House of Representatives Special Standing Committee on Small Business, visits Habitata where Jane Quartel, president, demonstrates the effectiveness of the shades.
Not too long ago, Habitata's neighborhood, McRee Town, was one of the worst in the St. Louis metro area. Crime was rampant, and buildings were either vacant or falling down. The city of St. Louis decided on a draconian solution — level it and start over.
Halcyon Shades chose to put its manufacturing facility in McRee Town because the owners believed in the city and its people. They found an empty grocery store and repurposed it into a factory, storage facility and offices. As a result of their efforts and those of others, McRee Town is now called Botanical Heights and is a national model of urban renewal.
But it almost didn't happen.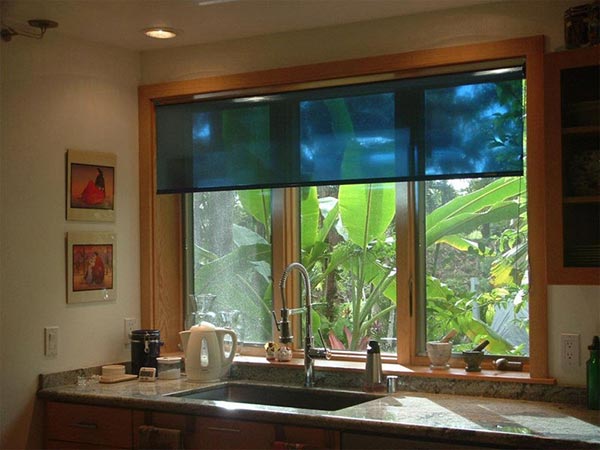 A kitchen in Hawaii with blue embossed Halcyon shades.
In 2006, Halcyon Shades was owned by a global conglomerate that manufactured the shades in Virginia. This parent corporation made the regrettable decision to move the operation to Puebla, Mexico, to take advantage of lower wages. It soon realized it had made a mistake. While workers were cheap, freight costs for materials in and products out of Mexico made the operation unprofitable and unmanageable. The parent corporation started taking steps to shut Halcyon Shades down.
Co-founders and husband and wife David Kenyon and Jane Quartel knew Halcyon well and believed in the value of the custom-made, ultra-energy-efficient, semi-transparent window shades. Quartel was employed by Halcyon's parent corporation and had managed the Halcyon division, overseeing the expansion of Halcyon's customer base into big-box retail stores, including Lowe's, Home Depot and Menards and moving the plant from Virginia to Puebla.
Kenyon had served as a consultant during the transition. Both feared the brand would be lost in the bankruptcy, a personal loss for them but a far bigger loss for the environment.
Kenyon and a new partner, Kevin Schaedler, had meanwhile founded a renovation and building products firm they called Habitata just six months previously with little more than a couple of old trucks and a customer list. Despite the stock market crash in September 2008, they were able to secure investment funds via two angel investors to buy Halcyon and bring Quartel and other experienced employees in from the parent corporation.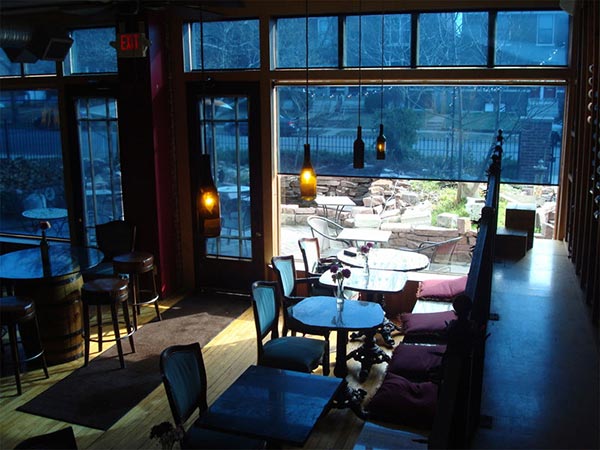 Sasha's on Shaw in St. Louis keeps people cool with blue embossed Halcyon shades.
They got to work. Within a month, the partners had located the old grocery store, fitted it out as a shade factory, hired and trained workers and moved Halcyon's materials and equipment 4,000 miles from Mexico to St. Louis while still fulfilling order commitments to Lowe's, Home Depot and their nationwide network of dealers.
Habitata is a true equal opportunity employer, hiring mentally disabled employees, veterans, newly released felons and chronically unemployed people from the St. Louis area as a matter of ordinary hiring practice.
"We're not a halfway house," Quartel says. "But your history doesn't necessarily say who you are. Your character says who you are. We're mining for character. We expect 150 percent, but we give 150 percent, too. It's a cohesive team, but we have high expectations of our employees." Current employees also have a say in new hires and are expected to mentor them, further reinforcing personal bonds and company loyalty.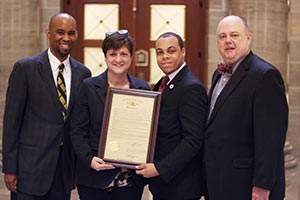 State Rep. Michael Butler (right center) presents a legislative resolution to Jane Quartel and David Kenyon (right) in recognition of the positive impact Habitata has on the local and state economies. MO SBTDC counselor Kevin Wilson is on the left.
Kevin Wilson, director of the St. Louis SBTDC, has been integral in Halcyon's transformation from a small building company to a model of environmental and social manufacturing with nearly $3 million in sales and 12 employees, four of them veterans.
Over the years, Wilson has facilitated meetings with Washington University professors to discuss proposed spin-off products; dug deeply into conventional and alternative funding streams, including tax credits, grants, venture capital and angel investing; pointed the way to government contracts; and helped overcome several international trade barriers. Middle Eastern nations with their extremely hot climate represent a particularly promising market.
"Halcyon Shades represents the very best of Missouri manufacturers," says Wilson. "They believe that companies should do more than make money. They can be a good neighbor and a community resource in troubled times and prosperity alike, and they have done that. They have not only helped bring American jobs back, they are truly equal opportunity and are helping rebuild a neighborhood. Not many manufacturers can say that."
"This is a place where you come to work and leave happy and fulfilled," says Kenyon, a former trial lawyer. Kenyon practices what he preaches. When the company hit hard times in 2010, he gave up his salary and stepped down as CEO to save employees' jobs. And he tells his workers: "You will save the environment. You will have made some money for your family and your company. You will have done something for the community by just showing up to work in an abandoned grocery store."
Where are they now
The University of Missouri's International Trade Center intern program worked with several companies in the spring of 2017 to provide real-world export research, including research for Business Development Program client Halcyon Shades, Richard Goellner, president.
The Halcyon student team spent months researching possible new markets, visiting multiple times and analyzing hundreds of countries for business friendliness, intellectual property protection laws, population, GDP, growth in that firm's product line and a host of other criteria.
The team then presented before Halcyon executives.
Here's what Goellner thought about the center and the final report (1-minute video).
---
Jan. 16, 2015, update
We first reported on Habitata Building Products, makers of Halcyon Shades, in 2013. This firm set up shop in an abandoned grocery store in a formerly abandoned St. Louis neighborhood, bringing good American jobs back from Mexico and transforming a neighborhood.

President Rich Goellner assumed Habitata/Halcyon's presidency in August 2013, and quickly discovered the company was hemorrhaging money and in danger of losing a key federal contract. The website was also totally inadequate, its marketing materials outdated by at least a decade and its distribution strategy woefully ineffective.
Goellner discovered the resources of the Business Development Program, specifically Missouri Procurement Technical Assistance Centers (MO PTAC) and the Mid-America Trade Adjustment Assistance Center (TAAC), a U.S. Department of Commerce Economic Development Administration matching grant program that helps manufacturers in Missouri, Kansas and Arkansas fight back against foreign competition.
A subsequent TAAC grant allowed the firm to redesign its website and marketing materials. And the savvy Carolyn Jones, MO PTAC procurement specialist, helped Goellner redesign the firm's capability statement, essential to federal contract inquiries, and better understand the procurement process.
"Because of her help, we were able to secure more than $200,000 in General Services Administration business and maintain our contract," he writes, adding:
I filled out the short survey you sent me, but I felt it didn't reflect how beneficial the help from PTAC has been. This year has been the largest in terms of sales to the government. Our biggest sale by far was in October to the Tip O'Neil Federal Building in Boston. Before that, we had already surpassed our previous year's sales with a number of government orders. We finished out the month of December by making the shades for the air traffic control tower at Dover (Delaware) Air Force Base. Thank you for all your help!
He also sent this testimonial to Jones of MO PTAC; Donna Leonard, TAAC director; and Rebecca Nace, TAAC assistant director:
Ladies,

I want to thank you from the bottom of my heart for the assistance, guidance, patience and tutelage you've all provided me in the last year. Because of your help we are currently profitable, and have hired five new employees this year. Thank you again for all your help!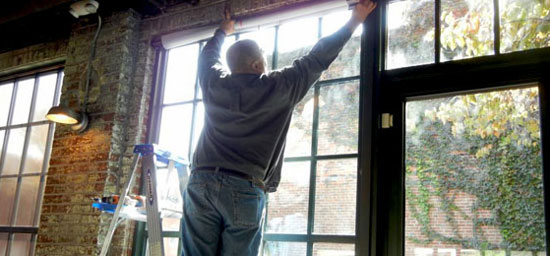 Installing Habitata shades.
This article was first published on July 2, 2013.