Helping Midwesterners celebrate freedom — safely, Powder Monkey Fireworks - Weldon Spring, MO
Published:

Thursday, June 9, 2022

"The last two years were our best two years," said Chris Sander, owner of Powder Monkey Fireworks in three Missouri locations: Weldon Spring, Cape Girardeau and Bowling Green.
Not many businesses can say that about sales during the COVID-19 pandemic.
"I think everybody wanted to celebrate freedom," Sander said. "They didn't have so much, maybe, for those two years."
In 2020 and 2021, most public fireworks displays were canceled. But the Fourth of July is a holiday you can celebrate outdoors in your own backyard.
Aware that new customers, many of them people that had never shot fireworks, were coming to their tents, Powder Monkey Fireworks made safety a priority.
"We shared tips for using consumer fireworks," Sander said.
Safety tips were printed on the shopping bags, posted in the tents, and listed on flyers at the checkout.
Plus, Sander said, "we shared videos on social media about how to light things and how to dispose of used fireworks without catching your house on fire."
Sander — entrepreneur, University of Missouri College of Business graduate, and Republican state representative of the 33rd District — first began selling fireworks in 1997.
"I was on the cross-country team and track team at my high school, Hazelwood West, and the coaches ran tents for Fireworks City," Sander said. "During the summer, whoever was on their team worked at their tent. I worked with the cross-country team."
Sander continued selling fireworks through college and only stopped briefly when he lived out of state for a couple of years. Back in Missouri, in 2008 he started Powder Monkey Fireworks — using the business plan he and three classmates developed in an entrepreneurship course his senior year at Mizzou.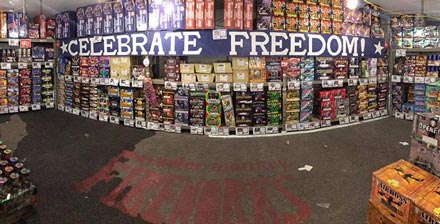 In February 2020, Sander, a previous client of the Missouri Small Business Development Center (SBDC) for another business, turned to the Missouri SBDC for guidance.
"He was wanting to look at the next revenue stream," said Jill Hathaway, business development consultant at the Missouri SBDC at the University of Missouri–Kansas City.
He wanted to expand, to establish firework stands in the Kansas City market, and to have a centralized location with a warehouse and distribution capabilities.
Hathaway pulled data to find the best location in the area where Sander was interested in establishing his warehouse, and she connected him with the right people to make the purchase.
"And a month later, COVID hit," Hathaway said.
Sander was a man ahead of his time, though. He had started offering online ordering about 10 years ago, allowing people to shop on the website 24/7 and stop by a tent to pick up their fireworks. That foresight contributed to 2020 and 2021 being "boom" years for Powder Monkey.
Sander buys fireworks for the season on credit and pays for them after the Fourth of July, so he planned for the worst. Not knowing how the 2020 season would go, he worked with Hathaway to obtain an Economic Injury Disaster Loan (EIDL) in case it turned out to be a bad year.
"But it ended up being the best year ever, and I nearly sold out of everything I had," Sander said.
He was able to repay the loan about a month after the season's end.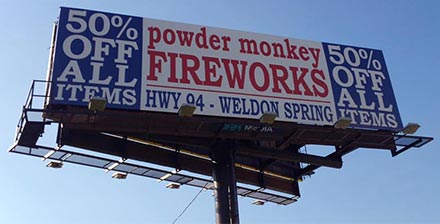 Now that Sander has property for a warehouse, his next goal is to manufacture fireworks right here in Missouri. He plans to establish both a warehouse and a manufacturing facility on his new property in Rocky Mount.
"Shipping costs have gotten so high that it would be cheaper to make [consumer fireworks] here, but we don't have the equipment or the people or the know-how here in the United States, or in Missouri anyways," Sander said.
Currently, all consumer fireworks are made in China. Not only that, but the fireworks must be inspected before they can be sold, and all the consumer fireworks inspectors are in China.
"We're totally dependent on China for our whole industry," Sander said.
While Sander works to change the fireworks industry, he is also continuing to grow as a business owner. His is one of the 10 Missouri small businesses selected to participate in the 2022 Elevate program, designed to help second-stage businesses get to the next level. (Learn more about the Elevate program in this article.)
"Chris has an entrepreneurial brain," Hathaway said. "He's constantly thinking about the next thing and what he can do to improve his business."
Hathaway, who nominated Sander for the Elevate program, said that if Sander isn't already the largest fireworks retailer in Missouri, he will be in the near future, and that based on his goals, he will go on to be the largest distributor as well.
Website: https://powdermonkeyfireworks.com
Facebook: https://facebook.com/pmfireworks
Instagram: https://instagram.com/powdermonkeyfireworks
Writer: Victoria Stokes