I Can Too! Learning Center — Salem
Published:

Tuesday, June 12, 2018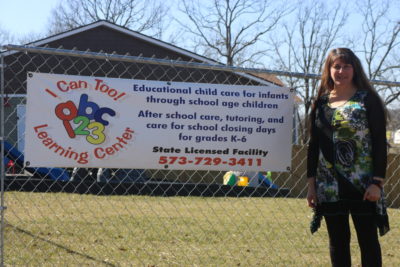 Nancy Mayor, I Can Too! Learning Center Owner
"I was in a panic," exclaimed Nancy Major, owner of I Can Too! Learning Center in Salem, Missouri.
This panic is what led Nancy to the Missouri Small Business and Technology Development Center (SBTDC) at Missouri S&T. After making the decision to build a larger facility for her growing childcare business, going through a year of work with architects and contractors, and working to secure financing, Major received news that could have been disastrous for the expansion project.
"I had all my financial statements, solid sales projections and verbal approval for the loan, but financing fell through at the last minute," says Major. "The contractor was already on-site. The crew was there and ready to start digging. I had to put everything on hold."
Major had to find another option — fast.
Major reached out to many community resources, including the SBTDC at Missouri S&T, where she spoke with Travin Shelton, an SBTDC business development specialist. At this point, Major was beyond frustrated. She needed answers and a plan.
Shelton and Major met and reviewed the current and projected financials for the business and new building. Shelton provided feedback on opportunities to improve the projections and discussed financial institutions she could approach for funding. Major identified two options that would fit her needs and made plans to speak with both. Within two months of connecting with the SBTDC, she was approved by a local lender and began project construction.
Today, that project has allowed her to build a top-notch 10,000 square foot facility and care for approximately 100 children per day. Major also employs 20 people, which is very impactful to a town with a population of 4,950. With unemployment in the state currently at 3.7 percent, Major also faces the common rural struggle of finding the right employees for the job.
Major again sought advice and guidance from Shelton and his colleague, fellow business development specialist Karen Leatherman. Together, they developed a plan to implement more effective hiring procedures that reduce employee turnover and help Major find the right fit for those she hires.
Since the building expansion, Major hasn't slowed down. She continues to listen to what her customers and community need and is working on a new children's garden project. Community support for this project is so strong that I Can Too! Learning Center won the top spot for community support in Missouri for the 2018 American Small Business Champions, a national contest hosted by SCORE, a partner program to the SBTDC through the U.S. Small Business Administration. I Can Too! Learning Center made it to the finals of that competition, going up against 102 companies nationwide for one of three prizes to receive $15,000 to help bring the children's garden project to life.
By serving her families and her community, Major is growing her business and creating a lasting impact on generations to come.
If you are a business owner experiencing growing pains, contact the SBTDC office near you.