Intek Corporation — Union
Published:

Sunday, Aug. 16, 2015
What do you think of when you hear the word infrared? Thermal imaging for night vision goggles, communications, space telescopes?
Jesse Stricker, founder and CEO of Intek Corporation in Union, Missouri, which has been making industrial heating products, electric heating elements, heater modules and process ovens of nearly every dimension and description for nearly 20 years, prefers you think heat.
Infrared has a longer wavelength than visible light and can be used to heat almost anything, like microwave energy. And infrared is a far more efficient heating method than natural gas, traditionally used to heat industrial ovens. Almost every product has to be heated somewhere along the line — furniture, cars, planes, logo T-shirts, phones, food, drugs, you name it — and Intek ovens are used in numerous industries domestically and in countries as near as Mexico and far-flung as Dubai, United Arab Emirates.
Most of Intek's products are custom-made and range from personal modular heaters to a 65-foot long oven that dries chicken waste. Intek's products also have no moving parts — another big plus.
A video showing the variety of Intek industrial ovens (5 minutes).
With a coalition of state and University of Missouri Extension Business Development Program (BDP) partners, Intek has increased its participation in tradeshows, vital for increased visibility and new orders; identified market trends, distribution channels and new partners worldwide; installed new software to improve processes and products; and toured Germany, Italy and Spain last spring to meet potential buyers and distributors.
These programs are the:
Mid-America Trade Adjustment Assistance Center (TAAC), a program within the BDP which uses U.S. Department of Commerce matching funds to help manufacturers like Intek fight back against foreign competition. Stricker first heard of TAAC during a 2013 meeting of the Missouri Association of Manufacturers in Springfield. TAAC's Becky Nace then initiated communications and was instrumental in bringing Intek into the program. Donna Leonard (director), Jeannine Goodrich, Ken Scheve, Dorothy Stringer and other TAAC personnel then ensured Intek secured the funds, used for the tour. The funds also helped the firm exhibit at tradeshows; work with a public relations firm to eyeball the company from a customer's viewpoint; identify marketing trends, distribution channels and media opportunities; and purchase new software to improve data management, report generation and product design.
The Missouri Small Business Development Center's (SBDC, another BDP program) International Trade Center and Pablo Arroyo, Franklin County Extension business development and international trade specialist, recruited Stricker as a panel member at a local seminar focused on exports and secured favorable local media coverage. He also helped the firm identify the right export experts and performed advanced market and technical research. Arroyo has identified the emerging Brazilian aviation industry, especially aerospace giant Embraer, as a target, as well as modular heater sales in Chile, which lacks low-cost energy sources.
The Missouri Department of Economic Development International Trade and Investment, which helped organize the trade mission.
The office of former Missouri Governor Jay Nixon, who sponsored the mission. Nixon led the delegation of government and business leaders to Europe.
Was the mission worth it?
"Oh, definitely," says Stricker. "Right now is the most profitable, dynamic and exciting period of Intek's history."
And while the mission did not pay for itself immediately — Intek received orders from one German firm — Stricker says the mission continues to produce opportunities that may result in longstanding business relationships.
"For example, other German companies expressed an interest in talking with us, but time in each of the three locations we visited (Milan, Munich and Madrid) was limited. We just couldn't get around to visit everyone."
However, he says just this week Intek was contacted by an Italian company that plans to visit to pursue a working agreement as a sales representative for the Italian market. "So yes, the effects of the trip continue to produce results," Stricker says.
Stricker would prefer not to release sales figures, but he will say 2014 was quite profitable and 2015 is looking to be far more so. The company hired a new salesperson at the start of the year and, if growth continues, Stricker says he'll hire another by the end of the year.
"I'm afraid to go to bed at night," Stricker said in a previous interview. "I don't want to do anything to upset that momentum."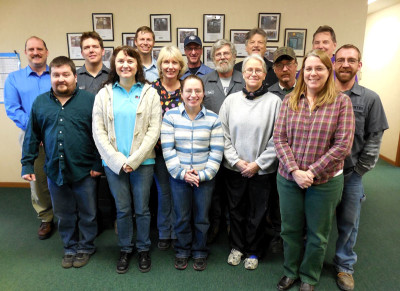 Some of Intek Corporation's employees.
Is your business ready to maximize its export potential and achieve greater gains? If the answer is yes, connect with the SBDC's International Trade Center today.
The International Trade Center works with numerous agencies to help you maximize your export potential, such as the Small Business Administration, the U.S. Department of Commerce's U.S. Commercial Services, the Missouri Department of Economic Development's Missouri International Trade and Investment Office, the Missouri Department of Agriculture's International Marketing Program, and the World Trade Centers in Kansas City and St. Louis.