JHS Specialties – Valles Mines
Published:

Sunday, Sept. 1, 2013
"Sure, I can talk now," says John House from his industrial supplies business in Valles Mines, 50 miles south of St. Louis. It's barely 9 a.m., and he's already made two sales calls. "Do I have the time? I'll make the time."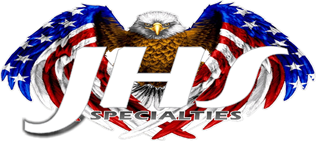 It's exactly this can-do attitude that's propelled House's business from a tiny one-man company to a respected business, JHS Specialties, that employs four workers and enjoys steady profits.
House and his wife and business partner, Susan, had a grand opening this spring, too, complete with local dignitaries, a ribbon cutting, barbecue and several clients' employees. Inviting good clients to events is just good marketing sense. And like almost everything else, House learned about marketing by doing it.
Marketing fasteners and industrial cleaning, solvent, penetrating and lubricating supplies wasn't exactly on House's mind when he joined the Army right out of high school. Already a married man, he started in the infantry, eventually serving all over the U.S. and in Germany in administration and as a scuba diver.
Toward the end of his 10-year tenure, he was ordered to Korea. But moving to the other side of the globe wasn't as practical as in his youth; he had kids, ailing parents and parents and in-laws who had never even seen their grandchildren. It wasn't an easy decision, but House decided to leave the Army.
Meanwhile, he had found the time to earn criminal justice and math and statistics degrees. He turned to policing, but it was not particularly well-paid, so he worked part-time to make ends meet.
"'You need to find something else,'" House recalls his wife saying.
That something else would find him.
After working in construction for a few years, House was lured away to a position as a business development and sales manager with a chemical manufacturer.
After a few years, House and a colleague in chemical sales decided they had enough experience to open their own private-label supply business. His timing, however, was less than perfect: the year was 2008, the height of the recession.
A few years later, House decided to start a new business and found another partner: Greg Tucker, then a business development specialist with the University of Missouri Extension St. Louis Regional Small Business Development Center (SBDC) and now SBDC director.
House didn't meet Tucker at a chamber breakfast or fundraiser either, but in a taekwondo class where Tucker was the teacher and House, for a change, the student. House has also certified Tucker's son as a scuba diver.
Away from the mat and out of the water, Tucker helped him perfect a business plan, recommended accountants and other professionals and helped steer him through government contracting. Tucker even serves on House's advisory board.
House's new business is on solid ground today and he's exploring new opportunities. These vary from new markets and developing a cohesive, easy-to-navigate website to going back to college to complete a master's degree in mathematics and statistics.
At age 57.
Completing an advanced degree is tough at any age but infinitely tougher after 50. Why bother?
"Two reasons," he says without hesitation. "I want to finish it, and to show my kids and grandbabies it can be done at any age."
Success in scuba diving, construction, chemicals, higher education and fasteners — what's the commonality?
"The Army," House again says without hesitation. His service, he says, instilled in him the discipline, drive and determination to get the job done no matter how difficult or unfamiliar. "We were taught to do what we had to do. If we were ordered to take that hill, we'd take that hill. If we were ordered to move that hill four times, we'd go out and do that, too. If we didn't know how to do it, we would figure out a way. In the military, on the police force, in construction, I was always a part of it, always doing something."
House also has sound advice for entrepreneurs of any age: "Go to the SBDC, to the SBA. They are there to help you, so use them. Why reinvent the wheel?