Joplin 3D4D Imaging Center
Published:

Monday, April 15, 2013
Karalee Laney, owner of Joplin 3D4D Imaging Center, LLC, has cracked a problem that's vexed mathematicians, philosophers and engineers for centuries.
She's broken into the fourth dimension.
And she's making money doing it, filling a gap in affordable ultrasonography with results delivered to expectant parents quickly and accurately.
A registered diagnostic medical sonographer and member of the American Registry of Diagnostic Medical Sonographers and Society of Diagnostic Sonographers, Laney has performed X-ray, computed tomography (CT) and ultrasound exams for more than 30 years. In those decades, Laney heard innumerable requests from expectant parents for three-dimensional ultrasounds — so many, in fact, that she approached the Missouri Small Business Development Center (SBDC) at Missouri Southern State University (MSSU) about starting her own business.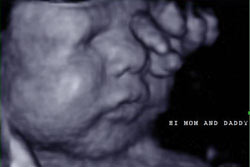 A Joplin 3D4D Imaging Center scan of a baby at 35 weeks shows amazing detail.
That was in 2005. She was forced to put her dream on hold for five years for various reasons, not the least of which was an sonographer's crazy schedule, being a working professional and having to put food on the table.
With the assistance of Lisa Robinson, SBDC Center Director, and Karen Bradshaw, SBDC business specialist, Laney opened Joplin 3D4D Imaging in early 2010, providing diagnostic medical ultrasound exams and baby gender scans. Laney realized her dream with the help of an SBA-guaranteed $51,000 loan to purchase such equipment as sensitive probes and a 3D/4D ultrasound scanner.
Robinson also helped Laney decide whether to start a traditional retail site or a mobile service. Robinson helped her analyze start-up costs, and they determined it would take about $5,000 per month to break even with a storefront operation. Robinson helped Laney write a business plan and make cash flow projections, resulting in the SBA-guaranteed loan.
During her first year of operation, Laney's sales were negligible. Numerous follow-up meetings with the SBDC counselors, however, helped build a far more sophisticated business using QuickBooks and better marketing with professional brochures, flyers distributed to doctors' offices, social media, a website and, more recently, an online scheduling system.
Her hard work and diligence have paid off. Sales revenue increased to $45,000 in 2011. By the end of 2012, revenues had increased nearly 36 percent revenue to $61,000.
Not that there weren't some bumps in the road.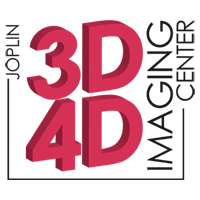 The deadly 2011 tornado that tore through Joplin also roared right through Laney's neighborhood and destroyed her home with her in it. She was buried in the rubble of what was left of her home for 45 agonizing minutes before someone dug her out. She had broken ribs and lacerations and was in no shape to do anything, much less run a business.
After just a few days' rest, however, she was back at work. Like most small business owners, Laney felt she needed to keep the business open at all costs or suffer the consequences. It took several months to completely recover from her injuries.
Laney has since relocated her business to a recently renovated building on South Main Street in Joplin, a far more traveled location that's resulted in climbing sales.
Laney sells tiered packages from a "Sneak Peak" gender determination to "Baby's Premier," which includes a DVD with still shots of the baby in 4D and full-color pictures. She also performs diagnostic ultrasound examinations almost anywhere in the human body. Her exam room is big, and family members are welcome to see their latest addition on a large wall monitor.
That Laney is providing a valued service is evident from testimonials like this: "Thank you for the great experience with 3D ultrasound! My husband and I had gone to Springfield for a 3D ultrasound. I pulled out the old pictures and cost to compare. Your pictures came out so much cleaner, and cost-wise you were much better overall! Thank you again for a great experience and great shots of our little guy!"
A doctor's order form Bradshaw and Laney co-invented has also boosted her business. And the new online scheduling system is another bonus, Laney says, that has solved missed-call issues. Every potential client can now go to her website, see what appointments are available and book an appointment. The software then sends Laney a text and an email.
"Karalee is a remarkable and tenacious woman," says Bradshaw. "First she realized her dream of owning her own company after several years of planning, daring to assume the debt of an SBA-guaranteed loan to purchase equipment and open the business even though her friends warned her there was too much risk. She also returned to work just days after she was injured [in the tornado] and did scans although her ribs were broken and it took months for her to completely heal."
Laney reciprocates. "I don't know how I would have succeeded without the help of Lisa and Karen," she says. "They are so helpful and informative about all aspects of business. One of the things I attribute my growth to is their help updating my brochures and making them look so professional. Having on-line scheduling so that clients can schedule themselves any time day or night has been a great asset, and developing a simple form for doctors helped me deal with doctors much better."
---

What is 3D and 4D ultrasound?

Quite simply, ultrasound, which is used in many different fields, is sound waves beyond the human hearing range.

Here's how ultrasound works in pregnancy: As early as 16 weeks, women can see a "fetal portrait" of their baby and determine its gender. Ultrasound technology has improved dramatically over the decades from flat, grainy black and white images to the current three-dimensional time experience.

Most hospitals offer some 3D scanning, but 3D ultrasound produces images that show the width, height and depth of a developing child. Rather than sending sound waves straight into the womb and recording when they bounce back as is common in 2D imaging, 3D ultrasound sends sound waves from different angles. A computer then renders a 3D image based on this data.

4D ultrasound, Laney said, adds movement as it occurs.

"The fourth dimension is time," Laney said. "You're actually watching your baby live in 3D mode. How cool is that?"

A 3D scan can also reveal if a baby has any physical abnormality, which Laney will then relay to the mother's doctor.