Logboat Brewing Co. LLC — Columbia
Published:

Sunday, March 19, 2017
It's a bright, cold day in January. Traffic is sparse and sunlight glitters on freshly fallen snow. Inside the industrial-zoned building on Fay Street just northeast of downtown Columbia, Missouri, sparks fly and construction workers grind, weld, nail and otherwise ready the former meatpacking plant to become Logboat Brewing Co. LLC in February.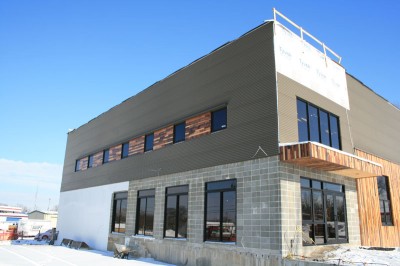 The newly renovated home of Logboat Brewing on Fay Street in Columbia, Missouri.
Tyson Hunt, CEO and one of four partners of Logboat, graciously points out the offices and a conference room and the tap room, where thirsty patrons can sip at tables. He explains the purpose and location of steam generators, a glycol cooling system and the huge stainless steel tanks trucked in from Oregon.
It looks like a complicated process — and it is.
Every beer lover knows it takes a combination of hops, barley, malt and water mashed together and cooked to make beer. But there's much more to brewing than that. The resulting fragrant mash, blended to exacting specifications, must then be steam-heated and vented through stacks that will carry the steam out of the brewery, giving the whole building that intoxicating, malty-sweet aroma of beer in the making. The beer must then be pumped and cooled into fermenters, mixed with carbon dioxide, aged and then finished before it can flow from a tap or keg into a frosted glass.
This is an extremely bare-bones description of the process. Logboat head brewer Josh Rein knows much, much more but mostly just nods as his partner points out the gleaming new equipment's salient features. Rein didn't start brewing professionally until about four years ago when he began working at Broadway Brewery. In 2011, he became assistant brewer at Flat Branch Pub and Grill. He has since studied brewing technology at Siebel Institute in Chicago and in Munich, beer's homeland.

Tyson Hunt, Logboat CEO and partner, inspects a 930-gallon stainless steel tank.
Like any business, however, it takes more than the right equipment and know-how to make good beer. It takes passion. And Rein, Hunt and co-owners Andrew Sharp, Judson Ball and Gardell Powell are all passionate craft beer enthusiasts who decided several years ago to transform their love of good beer into good business. And they are confident mid-Missouri is ready for a full-scale craft brewery. The city's two current brewpubs (Flatbranch and Broadway), and another, already operational production brewery (Rock Bridge Brewery), says Hunt, have been enthusiastically received.
"I think this town is ready for us," Hunt, who lived in Portland, Ore., for four years and was exposed to that city's craft beer cornucopia, says. "Craft beer is exploding! People are paying more attention to artisanal beer now. There's plenty of room for everyone."
It's worth noting that Logboat is a brewery, not a brewpub. The partners decided early on to not become a brewpub with its requisite restaurant, health code and server requirements. Logboat will employ outside distributors, Hunt says, strengthening an already strong business plan.
With Missouri Small Business and Development Centers' (MO SBTDC) help, the partners perfected that business plan sufficiently to raise outside capital and secure an Small Business Administration (SBA) loan from a local bank. SBTDC counselors also provided the partners detailed Esri geographic information systems research into mid-Missouri, its demographics and disposable income spending patterns and facilitated vital business connections.

American-made Metalcraft 930-gallon tanks where fermented beer is carbonated, conditioned and readied for packaging
"We had the business plan down cold, we thought!" Hunt says. "Then we met with the MO SBTDC. They helped us edit the business plan and add pieces the people on the money side would need to read, then took our finances and grilled us line by line to make sure we had thought everything through. They helped us sell the company and get people behind it. They have been a huge part of building our confidence and getting us to where we are now."
"Where" is a section of Columbia primed for renaissance one block from Columbia College, two blocks from the renovated North Village Arts District and a few more from downtown and the University of Missouri. It's a part of town that's suffered from benign neglect for more than a decade. That's all likely going to change in 2014, however, with a new hotel, lofts and new businesses under construction.
The old plant that now houses the new Logboat would be unrecognizable to long-time Columbia residents. The building had to be torn down to its very foundation and rebuilt from scratch. Its industrial zoning was a plus, Hunt says, in deciding to purchase the property. It also had floor drains — a big plus, as cleanliness is a necessity in the brewing business. The partners are also installing energy-efficient doors and windows and recycled wood planks from a more than century old barn to give the brewery a warm, homey feel inside and out.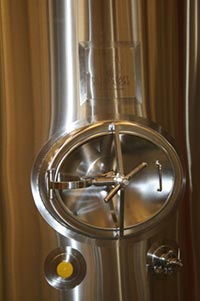 A tank manway, so called because it allows access into the tank.
The property also has a large side yard for music or movies in warmer weather and a large front yard that must be fenced off before it can become a beer garden. All this, the partners feel, will make Logboat a destination and not just a business. Hunt says the brewery's walls will probably also be adorned with local art, further strengthening the brewery's ties with its neighbors.
As of this writing, Logboat expects its mainstays to be:
A pale ale, one of the world's most popular brews, characterized by a high proportion of pale malt resulting in a lighter colored brew
An India Pale Ale, a robust ale first brewed in England for export to India
A ginger wheat beer with hints of coriander and lemon ("It'll go great with Asian foods and sushi," Hunt says.)
An English-style session ale "similar to a brown ale but with a lower alcohol content and with a subtle chocolate/toasted bread flavor," says Hunt. A "session" beer is one with a lower alcohol count and a balanced flavor of hops and malt that can be drunk over a long session without overwhelming the palate or getting the drinker too intoxicated.
Logboat also plans to produce a gluten-free cider and implement a barrel-aging program for higher-gravity beers to be aged in whiskey barrels, then blended to create delicious beers chock full of body, aroma and flavor.
Ball adds, "It's been a crazy process and each new relationship has turned into another opportunity to learn something new from business folks in our community, even family members and friends willing to share their experiences. All of them have been instrumental in getting us to where we are today."
Where are they now?
Congratulations to Business Development Program client Logboat Brewing Company, named the Columbia (Missouri) Chamber of Commerce's 2016 Small Business of the Year!
Logboat has become a community staple with its taproom; tasty, changing brews; charity fundraising (about $50,000 raised thus far); and large, grassy open areas ideal for picnics, music or just hanging out.
Earlier this year, Logboat broke into the St. Louis market and plans to expand into Kansas City and Springfield, Missouri, by 2017.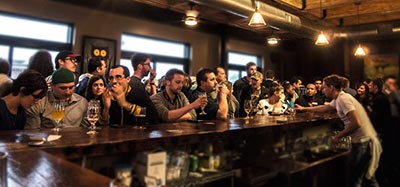 Logboat Brewing's busy taproom.
Client success
Congratulations to the Business Development Program client brewmasters who took home silver from the 2017 Best of Craft Beer Awards in Bend, Oregon, in February: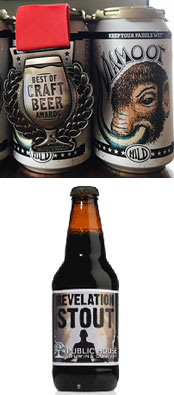 Logboat Brewing Co., Columbia, Missouri, who won for their Mamoot Ale. Mamoot won in the English-style dark mild ale or English-style brown ale category.
Public House Brewing Co., St. James, Missouri, for their Revelation Stout. Stout is a darker beer made with roasted malt or roasted barley, traditionally a brewery's strongest or "stoutest" products (typically 7 or 8 percent alcohol). Read our 2016 story on Public House.
A total of six Missouri breweries won, including High Heel Brewing, St. Louis, and Cinder Block, North Kansas City, both of whom brought home gold.
This article was originally published on January 21, 2014.