Missouri Employers Mutual Insurance Co. — Columbia
BDP Pollution Prevention Intern Program helps MEM save energy costs
Published:

Monday, July 18, 2016
The University of Missouri Extension Business Development Program's Pollution Prevention or P2 Intern Program recruits and trains the best and brightest upper-level engineering students to help companies reduce energy and environmental costs. The P2 program has saved Missouri companies more than $1,170,000 in annual operating costs thus far.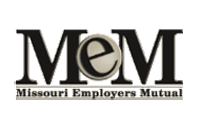 Companies like Missouri Employers Mutual (MEM), Missouri's No. 1 provider of workers compensation insurance, whose headquarters in Columbia is a gleaming 63,000 square foot building with a large skylight and rotunda. These architectural features create a roomy, spacious feel but also contribute to uneven heating and cooling and to high utility bills.
Lighting in the building was florescent tubing or even older, more obsolescent lights. The building also had numerous air leaks, including the loading dock, garage door, lower level louvers and rotunda. The heating, ventilation and air conditioning, or HVAC units, had not been balanced since 2005. And the trees on the west side were small maples, which don't provide enough shade.
So MEM called P2.
Taylor Sizemore, who graduated from the MU College of Engineering in 2016 with a bachelor's degree in biological engineering with an environmental emphasis, had heard about the P2 program in a pollution prevention class and decided she wanted hands-on experience in energy efficiency.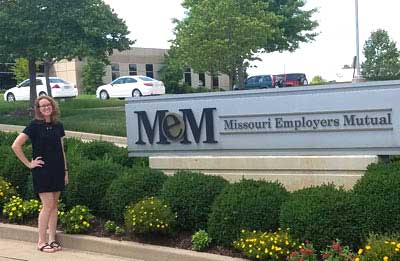 Taylor Sizemore, a 2016 MU College of Engineering graduate and P2 intern, recommended ways to help MEM save energy.
"A building's energy efficiency should be a continuous improvement initiative," she says. "There is always something that can help improve a building."
Sizemore was assigned to MEM as a P2 intern and plunged right in. She walked through the building, talked to employees, asked and was given whatever blueprints and spec books she requested. She fit in so well with the corporate culture, in fact, that MEM celebrated her birthday. MEM's HR department even helped her spruce up her resume.
She took her observations and analysis to weekly consultations with Dr. Bob Reed, Extension Associate in MU's Small Business and Technology Development Centers, director of the Midwest Energy Efficiency Research Consortium and current P2 field coordinator.
"Dr. Reed was a great mentor!" Sizemore says. "Very encouraging and full of wisdom about technical questions and life in general."
Taylor recommended:
Replacing all exterior and interior lighting with more energy-efficient LED lights
Removing the small maples on the building's west side and replacing them with larger, shadier trees
Placing exterior fins above windows to reduce heat
Installing a ceiling fan in the rotunda for better air circulation
Retrocommissioning the HVAC units
Installing a shade in the large skylight above the building's common area
Replacing existing lower level smoke louvers with more energy efficient units.
And other improvements.
The video below helps explain how P2 helped MEM (2 minutes).
Greg Flippin has been in facilities management for nearly 30 years, 10 with MEM as corporate facilities and fleet manager. He manages the buildings, grounds, furnishings and corporate vehicles for all four MEM offices. He's also responsible for the security of corporate assets, its people and construction management..
That covers a lot of territory, and Flippin's cell phone buzzes nonstop. He admits he's too busy to put in the hours necessary to analyze energy efficiency.
"I pretty much let Taylor loose," he says, adding that Sizemore swiftly identified the issues posed by the windows, skylight and lighting.
"Taylor was fabulous!" he says. "She blew me away with her depth of knowledge on the subject."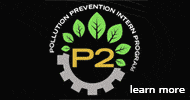 "Greg was an amazing boss!" echoes Sizemore. "He was very supportive and encouraging. He was also open to listening to any ideas or suggestions that I had."
"The P2 Program was a very important program for us," says Flippin. "All of us have full-time jobs, and this is a job that was going to take a lot of time, a lot of research. P2 released us from having to do that.
"I would highly recommend it."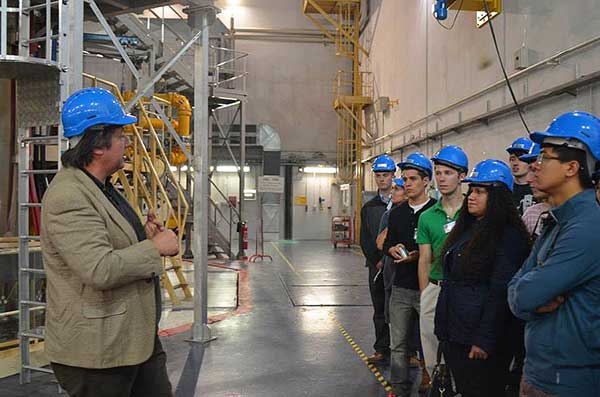 University of Missouri College of Engineering students are routinely exposed to real-world engineering.
The program also benefits these bright students, destined to be tomorrow's leaders. Sizemore's experience at MEM helped her secure a job at Lockheed Martin as an energy efficiency implementation specialist.