Missouri Moisture Analyzers LLC — Maryville
Published:

Monday, July 18, 2016
Manoella Rodrigues da Silva is a 23-year-old entrepreneur from Brazil and the general manager of Missouri Moisture Analyzers in Maryville, Missouri, a firm that manufactures grain moisture analyzers and other agricultural products such as bulk grain probes, bag triers, sieves and grain dividers.

Manoella Rodrigues da Silva, general manager of Missouri Moisture Analyzers in Maryville, Missouri.
Is her age and nationality a problem in rural, traditional northwest Missouri?
"Well, sometimes," she admits in impeccable English. Da Silva studied English for five years in Brazil but says she's picked up the language much faster by being here. "Yes, I am really young, but I am tough. I am also really honest, and say, 'Hey, I don't know everything – come to me with your problems, come to me with new ways of doing things, we can work together. I am young, so help me!' "
And that's exactly what Rebecca Lobina and Larry Lee did. Lee is former director of the Northwest Region Small Business and Technology Development Centers (SBTDC) and of the Northwest Missouri State Dean L. Hubbard Center for Innovation and Entrepreneurship (CIE) in Maryville. Rebecca Lobina is the current Northwest Region SBTDC director. The MO SBTDC is part of the University of Missouri Extension Business Development Program (BDP), a statewide network which helps businesses succeed in every stage from concept to startup, growth to renewal, maturity to succession through a variety of programs. The CIE is an award-winning business incubator connecting industry and academia with state-of-the-art research facilities, a commercial analytical lab and other support for business acceleration.
Lee and Lobina found Missouri Moisture Analyzers a home in the CIE, and helped da Silva and her father Henrique da Silva, head of parent firm Motomco Group in Brazil, find the right personnel, the right ag trade shows, interpret U.S. regulations, find target markets and more. Lobina also created maps of potential clients, finding 229 grain elevators within a 115-mile radius of Maryville.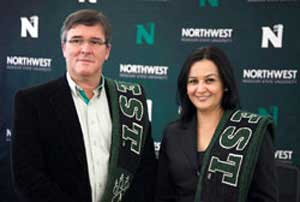 Da Silva's parents, Henrique, CEO of Motomco Group, and Viviane.
Large agricultural concerns such as MFA are one target market for the firm's products. (MFA Inc. is a regional cooperative serving more than 45,000 farmer-owners in Missouri and adjoining states.) Another is individual farmers.
"Larry was my contact every time I needed something," says da Silva. "He was like a consultant for me. Every time I had a doubt — as a foreigner, I'm not used to things here, how things are done — I would ask him, 'Hey I need some advice, how do you do that here?'
"He was awesome, introduced us to some nice people that have helped us grow."
One example of this aid is their recently completed website. In Brazil, salespeople visit potential clients to field questions about products and take orders. In the U.S., da Silva learned, people expect many questions to be answered via websites and business to be conducted by e-commerce.
But why Maryville? And wasn't coming to this small town, population just more than 12,000, from Curitiba, the capital and largest city of the Brazilian state of Paraná with nearly 2 million people and a booming economy, a big adjustment?
"It's a big difference!" she admits. "But I feel it's safe and we can have a good life here." She says she likes northwest Missouri well enough she hopes her fiancé moves here, and da Silva plans to establish U.S. citizenship and pursue an MBA with an emphasis in international business from Northwest Missouri State University.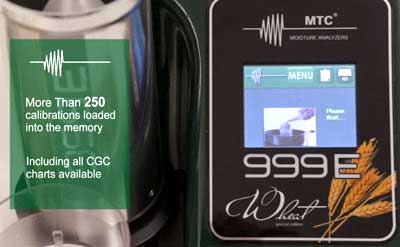 The MTC 999E is used to analyze the amount of moisture in wheat.
Motomco has offices in seven agricultural regions of Brazil, in Argentina and in Paraguay, as well as an office in Winnipeg, Manitoba. The U.S. is the world's largest grain producer, so it just made sense to establish a branch in the American Corn Belt. The da Silvas sent out queries and received an excellent response from Maryville, which maintains good relationships with the Missouri Partnership, Kansas City Area Development Council, Nodaway County Economic Development, the MO SBTDC and CIE, all of whom aided.
"I see a big future here," she says, bigger than in Brazil. "People are so nice! They have received us well."
So well she expects revenues to double this year and to hire 10–15 more employees as a result of two secured contracts, one from a very well known tractor maker.