Missouri Thistle, Inc. — Owensville
Published:

Friday, April 10, 2015

Just like its namesake flower, Missouri Thistle, Inc. (dba Thistle, Inc.) is a hardy Missouri company that has learned to adapt, grow and thrive in adverse conditions.
The veteran-owned vinyl products firm in Owensville is "the fastest growing small manufacturer you've never heard of!" says Rachel Martens, Thistle's manager of sales and legal. The company employs close to 40 people and recently added a second shift to handle production of up to 1 million units daily.
Established as a maker of leather and canvas products in 1981, Thistle is today one of the few companies in the entire country with the capability to manufacture finished vinyl products in-house in two basic business lines:
Custom-printed badge holders used by conventions and trade shows, event organizers and managers, colleges and universities, government employees, financial institutions, hospitals and medical offices, corporate marketing and HR departments and many others
Retail display sleeves, the omnipresent price tag holders seen on the shelves of grocery stores and large retailers such as Wal-Mart, Office Depot, Pier 1 Imports and Lowe's — all Thistle customers.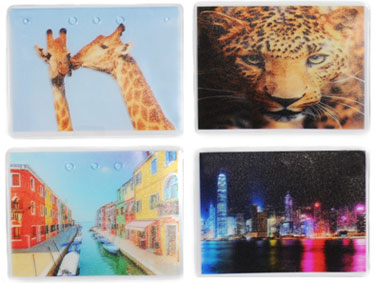 Four Thistle full-color badge holders
While there are other suppliers of badge holders, Martens says most companies are distributors, not manufacturers like Thistle.
"Two key things set us apart," she says. "First, we offer biodegradable, recyclable, environmentally friendly films. And second, we have an entire facility to do full-color digital printing, not just for badge holders, but also for retail display sleeves and large format vinyl signs and banners."
And there's a crucial third distinction. Thistle is an American manufacturer, keeping good jobs in Missouri.
"We do everything in Missouri: Purchasing raw materials from American suppliers, constructing custom dies in-house and locally manufacturing all finished goods," Martens says. A huge challenge comes from U.S. competitors that merely distribute products they purchase overseas, she adds.
And that's where the Cole County Extension Small Business Development Center (SBDC) came in.
Thistle reached out to MU Extension Business Development Specialist Chris Thompson and SBDTC International Trade Specialist Jackie Rasmussen in the fall of 2013, looking for help with sales, marketing and growing its customer base, with a special interest in business growth and international trade. After initial meetings, the counselors researched potential international markets, put Thistle in touch with the Missouri Procurement Technical Assistance Centers (MO PTAC) for help with government contracting, helped prepare a new business plan and referred Thistle to the Mid-America Trade Adjustment Assistance Center (TAAC) for potential matching funds to help battle import competition.
The MO SBDC, MO PTAC and TAAC are part of the University of Missouri Extension Business Development Program (BDP).
Thistle qualified for TAAC assistance in 2014, and Becky Nace, TAAC assistant director, guided the firm through the program. TAAC and continued collaboration with Thompson and the other SBDTC counselors have made a big difference, Martens says.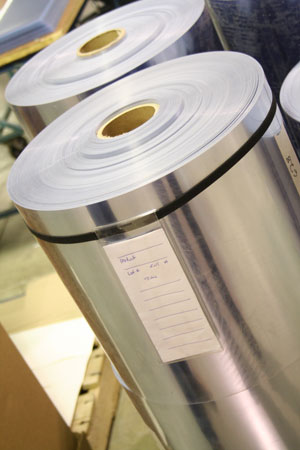 The raw product: Rolls of sheet vinyl
"TAAC funds enabled us to do product photography and put together a new website that customers can use to view our products, request samples and detailed quotes," she says. "We've been able to get training on government contracting, prospecting for foreign markets and, with the help of the MO SDBTC, work on our accounting systems and business planning."
Thompson also provided such tools as a generic work chart, business plan outline, paired comparison analysis and worksheet and backward planning. He then worked with Martens and her team to review and make recommendations on Thistle's sales processes, recommend outside financial consultants and increase international prospecting.
As a result, Thistle has moved forward to expand its fully automated production space with a building addition. The firm also plans to build a 14,400-square-foot warehouse this summer; add to its office and production staff; and attract more domestic and international customers.
"We're continually investigating where potential foreign markets lie," says Martens. "And we seem to be having a whole lot of success there, too."