Specialty glass producer on technological cutting edge
Published:

Thursday, May 4, 2017
Rolla, Missouri-based MO-SCI combines R & D and manufacturing capabilities to make extraordinary glass products for specialized applications.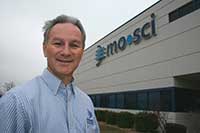 Ted Day leads the Rolla-based specialty glass manufacturing firm, MO-SCI Corporation.
Many long-term diabetes patients face the prospect of dealing with chronic ulcerated wounds of the lower extremities. These venous stasis wounds, as they are labeled in the medical world, can linger for several years. For a diabetic these chronic wounds can start with something as innocuous as bruising a shin on the edge of a coffee table. Unhealed they can lead to declining health, amputation and ultimately death.
A specialty-glass manufacturer in Rolla — MO-SCI Corporation — believes it has developed a product that can offer a simple treatment leading to rapid healing of such wounds. This cotton candy-like glass fiber material is called DermaFuse.
Currently DermaFuse is in a preclinical trial at the Phelps County Regional Medical Center in Rolla and in animal testing at the University of Illinois in Chicago. While it awaits an extensive barrage of testing before it can receive Food and Drug Administration (FDA) approval for treating humans, the boron-based bioactive glass has been licensed by a Baltimore firm for marketing to the veterinary medicine field. MO-SCI retains the licensing for the human-wound application of the product.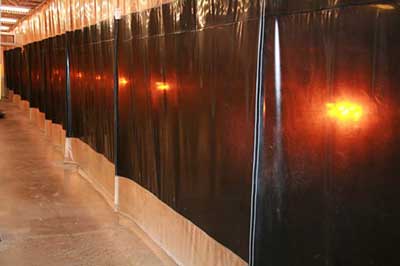 MO-SCI's manufacturing section contains a row of several furnaces for specialty glass production. Tinted screens shield employees from the bright light emitted during the production process.
Invented by Missouri University of Science and Technology (S&T) ceramic researchers Steve Jung and Delbert Day, DermaFuse is one of the latest developments in a long line of products from the 27-year-old MO-SCI Corporation. MO-SCI has been a client of the Small Business and Technology Development Center (SBTDC) at S&T since 2004. The company is a world leader in the research, development and manufacture of specialty application glass.
One of its first products was a miniscule glass bead named TheraSphere. With a diameter of 15 to 35 microns — about one-quarter the width of a human hair — a radiated version of the product can be used in liver cancer treatments. S&T ceramics professor Delbert Day and University of Missouri Research Reactor scientist Gary Ehrhardt developed the bead therapy in the early 1980s.
Day founded MO-SCI in 1985, because no supplier within the glass industry was willing to make TheraSphere, according to Ted Day, president of MO-SCI and son of the professor.
"Dad thought there might be other companies that had a similar need to acquire niche glass materials," says Ted. "MO-SCI was started with that concept in mind and after 27 years — serving more than 2,000 customers and exporting to 50 countries — I think he was right."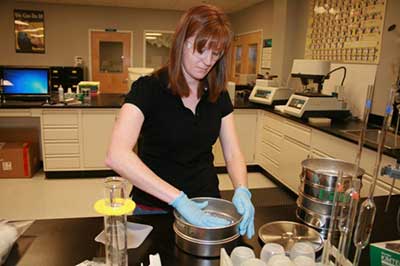 Sheila Arthur, a quality assurance lab technician, qualifies a sample of DermaFuse from a recent production run.
During the first few years, MO-SCI operated on a slender thread, like most new small businesses. In MO-SCI's case that slender thread had a name: SBIR (Small Business Innovative Research) awards, which are limited-amount research and development (R & D) grants available for promising research efforts of interest to any of a variety of federal agencies.
MO-SCI researchers began writing SBIR proposals soon after start-up. Within four years they had received three Phase I awards ($100,000 each) and a Phase II award (up to $750,000 each).
"For the first five years, we lived on the research dollar," recalls Ted.
But in addition to SBIRs, two other factors led to the firm's progression. One was its ability to level the playing field among much larger companies by structuring MO-SCI to take advantage of the personnel and assets available through S&T. The firm also assembled a business plan that combined all aspects of the services its customers needed, Ted says.
"These were R & D, analytical, pilot, and full-scale production and post-forming services. No other small specialty glass manufacturer that we know of has done this."
Today MO-SCI serves 85 percent of Fortune 500 companies. It also serves the majority of the top 50 on that list as the sole supplier for their specialty glass products. Through its three divisions — MO-SCI Corporation; MO-SCI Health Care, LLC; and MO-SCI Specialty Products, LLC — it offers such products as microspheres, powders and continuous glass fibers for applications in aerospace, automotive and electronics in addition to the medical, pharmaceutical and other industries.
As an example, Ted cites his firm's work with health care giant Johnson & Johnson: "J&J came to us in the late 1980s and asked if we could develop a glass microsphere that would be inert in human blood, while also being of very high quality and of a narrow size distribution."
MO-SCI soon began producing the microspheres to J&J's specs. Today MO-SCI is J&J's only supplier of the minute glass orbs and ships tons per month, which the New Jersey-based medical product manufacturer uses for blood typing cards in hematology labs.
"We stay in the glass and ceramics world," says Ted. "When somebody comes to us with a need, if we don't have it, we develop it. And we tell potential customers upfront, 'If your primary driver is low cost, we're probably not the company to come to.' The cost of quality can be high."
Of the company's 40 employees today (it had 10 when Ted joined the firm as president in 1998) most are in R & D. The others work in production and administration.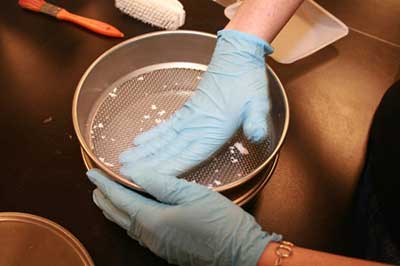 Working with the DermaFuse material.
"R & D work is expensive and labor-intensive. We sell peace of mind with a little product. We have never had a recall. We vigorously test our products before we release them, so we know the product will work for our customers. Quality assurance is our priority."
Growth is the norm for MO-SCI, especially during the past 10 years. The company moved from a 16,000-square-foot facility in 2005 to its current 40,000-square-foot manufacturing and lab space.
Immediate plans call for an 80,000-square-foot addition to the current building within the next 12 to 18 months. Long term, the company president foresees construction of a separate manufacturing plant for DermaFuse, when final approval comes from the FDA for use with human patients.
Workforce stability is another consideration. Turnover is low.
"Our employees are our most important asset," MO-SCI's president recognizes. "We offer long-term training and a full benefits package. Employee satisfaction is our mantra. Retention is our goal."

Delbert Day and Steve Jung discuss the MO-SCI R & D process and explain some of the materials they produce in this 3-minute video.
Where are they now?
A wound care product first researched by a doctoral student at Missouri University of Science and Technology (S&T), Rolla, was recently approved by the U.S. Food and Drug Administration and will soon be on the market. That student, Steve Jung, is now chief technology officer at Mo-Sci Corp., a Rolla specialty glass manufacturer.
The Mirragen Advanced Wound Matrix is composed of microscopic glass fibers and particles fully absorbed by the body. Mirragen was developed with ETS Wound Care, also of Rolla. That firm says it will release Mirragen in 2018.

Jung's doctoral adviser at Missouri S&T was Dr. Delbert Day, a groundbreaking glass engineer who co-founded Mo-Sci more than three decades ago to manufacture radioactive glass spheres to treat patients with inoperable liver cancer.
Keith Strassner, director of the Missouri S&T Small Business and Technology Development Center and of the university's Office of Technology Transfer and Economic Development, says the new product is an excellent example of the real-world benefits of academic research.
"The Mirragen story perfectly illustrates how federal support of university research can translate into broader economic and social benefits," he says. "Then, we were able to create a strong partnership with Mo-Sci, and we were able to transfer the technology to allow the company to make the necessary investments in its commercialization and the regulatory approval process."
This article was originally published on May 15, 2012.