New-Aire Fireplace Systems LLC — Carl Junction
Published:

Sunday, May 14, 2017
Dennis Ware, co-owner of New-Aire Fireplace Systems, Carl Junction, Missouri, just north of Joplin, brims with ideas. Practical ones.
There's the New-Aire Fireplace System, which heats using basic principles of thermodynamics, forcing air through baffles in a heat exchanger surrounding a steel firebox. This can generate in excess of 200,000 BTU fully fired, which is, well, pretty hot. Ware, a former shop teacher and industrial and process engineer, among other vocations, bought the business in 2014 and has been advised by Ken Surbrugg and Lisa Robinson of the Missouri Southern State University Small Business and Technology Development Center since then.
A wood-burning oven with a stainless steel dome inside and enough insulation on the top, bottom and back to reach 2,700 degrees F. That's hot enough to bake dozens of pizzas in about 2.5 minutes.
A teardrop trailer for sale or rent in several configurations: 4 by 8 feet, 5 by 9 feet, and 5 by 10 feet. A teardrop trailer is a smaller, teardrop-shaped trailer that can be pulled by an ordinary SUV or larger car. "It's basically a tent on wheels," says Ware.
A teardrop trailer tailgater with a wood-fired oven installed. This trailer looks like a regular teardrop trailer but inside is Ware's efficient oven and two tables, perfect for tailgates.
A teardrop trailer tailgater hauled by a trike motorcycle. Ware estimates it can't be more than four feet wide and about 77 inches long to be practical. He thinks he'll need to cut the weight down by incorporating aluminum into the design, too.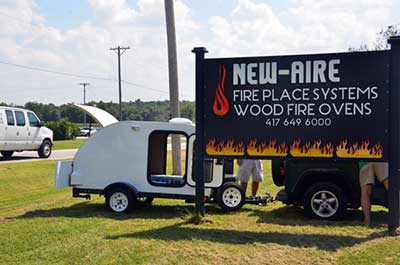 One of New-Aire's teardrop trailers.
Surbrugg and Robinson have helped Ware, his wife Julia and son Anthony on issues ranging from accounting and figuring out cost of goods sold to researching new markets in the northern U.S., perfecting a business plan to get a loan, finding new dealers nationwide and identifying the best trade shows to attend.
Where does he get all these ideas?
"My brother saw one (teardrop trailer) come through Joplin, and I started investigating," he says. "The idea had been around for a while but took off after a 1947 Mechanics Illustrated article on how to build one. At the same time, my brother and I were building a teardrop trailer. I also had this wood-fired oven and a friend came in, a school administrator, and he said, 'Wouldn't it be neat to put it on this trailer!' "
It would. And it's bright ideas like this that earned him the Rising Business of Year award from the Carl Junction chamber and a spot in the highly selective Goldman Sachs 10,000 Small Businesses program.

Dennis and Julie Ware, co-owners of New-Aire Fireplace Systems, Rising Business of Year, at the Carl Junction Chamber Awards Banquet.
10,000 Small Businesses helps entrepreneurs create jobs and economic opportunity in their communities by providing greater access to education, financial capital and a strong network of advisors and peers. Surbrugg and Robinson urged him to apply for the program and helped him complete the paperwork. He expected that would be the end of it. He was pleasantly surprised when Goldman Sachs selected him. He will fly out for two separate sessions at Babson College in Wellesley, Mass., beginning this August.
Goldman Sachs says that the program has served more than 8,000 small business owners in all 50 states, resulting in immediate and sustained business growth. The firm also says program graduates grow revenues and create jobs at rates that outperform the broader economy: 82 percent of graduates increased revenues within 30 months of graduation vs. 45 percent of all small businesses; 61 percent created jobs vs. 23 percent of other small businesses.
Ware is eager to attend and improve his business. His business is highly cyclical, as you would expect from a fireplace systems firm. But he's already planning to hire a sales rep to add to his existing eight hard working employees.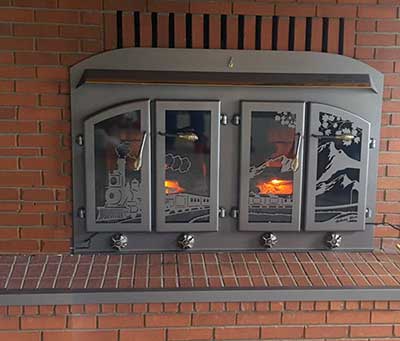 A New-Aire custom fireplace installed in a brick hearth.
He's also a veteran, having served in the Missouri Army National Guard, helping build roads in Honduras, among other duties. How long did he serve?
"20 years, 2 months and 26 days," he answers without hesitation. "I took the oath at 10:30 a.m."
Have we mentioned he's an engineer?
[An extremely accomplished if not degreed one: Ware's degree is in industrial education and he was an industrial engineer and plant manager for 30 years, working in the clothing industry (Big Smith, King Louie America) and for EaglePicher Technologies in Joplin.]
Learn more about New-Aire Fireplace System on their Facebook page.