Public House Brewing Co. — Rolla, St. James
Published:

Monday, May 16, 2016
Public House Brewing Company is the brainchild of two Joshes, Josh Stacy and Josh Goodridge, old music buddies who parlayed their love of craft beer into a homey pub on North Rolla Street near the Missouri University of Science and Technology (S&T) campus in 2010. The Rolla, Missouri, landmark brewpub was a long time in the making, but they made it with strategic help from Keith Strassner, director, and John Woodson and Travin Shelton, counselors, at the Missouri S&T Small Business and Technology Development Center (SBTDC). The center is part of a statewide network of counselors who provide business analysis, consultation, access to technology resources and training seminars on a variety of business topics. The SBTDC is a program of the University of Missouri Extension Business Development Program.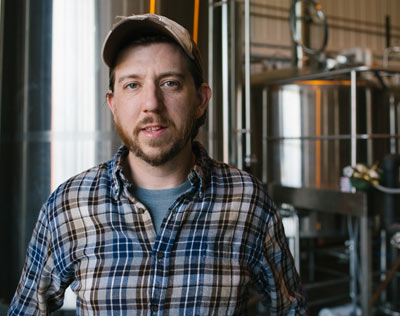 Josh Stacy, co-owner of Public House Brewing with beer tanks at the brewery.
Public House also has a garden. And a taproom.
With a winery.
How can a brewing company have all of this?
By accepting capital from the four-decades-old St. James Winery, just 10 miles away, to build a new brewing facility with a taproom to dramatically increase production, and the new Gardens at St. James. At the Garden, people can enjoy the warmth, friendliness and good cheer of award-winning St. James Winery wines or a rich, creamy Revelation Stout from the Public House Brewing Company — all in a landscaped outdoor space with a fire pit, bocce courts and chess board populated with four-feet tall chess pieces.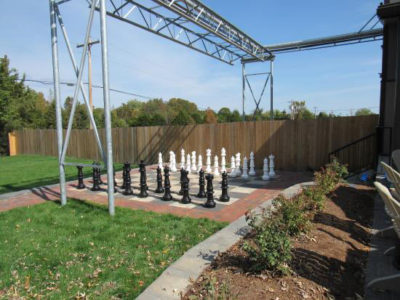 Public House Brewing's garden includes a chess board with four-feet tall chess pieces.
Chess? With wine and beer?
The Joshes decided early on they wanted to create the sort of space they'd like to hang out in. The pub has no TVs, much less giant ones with sports at ear-splitting volume. There are no games but the old-fashioned ones where people look at each other or the board — not a screen. There isn't even any smoking. All this was done to enhance the new old-fashioned pub experience.
The pub and gardens more than welcome students. But the demographic sweet spot, zeroed in with Missouri S&T SBTDC help, are professionals aged 35 plus. Josh Stacy describes them this way: "People who like to go out after dinner, who are tired of sports bars, regular bars — all that smoky, loud, chaotic stuff." Stacy is co-founder, co-owner and brewmaster. He still keeps his hand in the game, but is concentrating more on the business side of things. "We wanted this to be the place for everyone else, more of what we liked.
"We didn't understand how many everyone elses there really were."
This was amply proven when the taps ran dry just a few days after opening. That's not an issue now, because the Rolla facility's 350-barrel-a-year capacity has been enormously augmented by the St. James taproom, built on underutilized St. James Winery land. Stacy says the pub still has 12 taps with constantly changing brews, an opportunity for the owners and brewmaster to experiment while producing these four mainstays: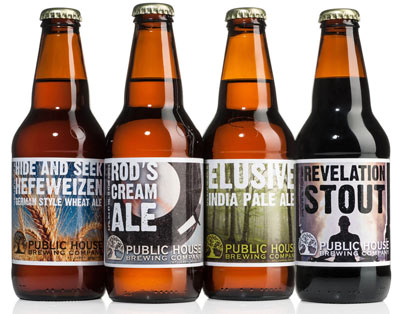 Public House Brewing's four mainstay bottled beers.
Rod's Cream Ale — winner of a 2015 craft beer gold award, an all-American mild, pale, lighter-bodied ale, named for Public House brewer Rod Murray.
Hide and Seek Hefeweizen — (German for "wheat with yeast"), brewed with a multi-step infusion mash method that gives the beer body without sweetness. Described as "pale, spicy and fruity … medium-bodied with a fluffy, creamy fullness that comes directly from the wheat" with "subtle flavors and aromas of banana, clove and even bubblegum." Why hide and seek? The flavors are there but have to sought to be savored, says Stacy.
Elusive IPA — their take on the classic craft brew, slightly higher in alcohol content and made with six different hops.
Revelation Stout — their best-seller, winner of a gold medal against formidable odds at the 2015 Los Angeles International Commercial Beer Competition, with a distinct chocolatey aroma, creamy tan head and notes of roasted coffee.
They still have time to dream up items like:
Thorn and Heat Strawberry Wheat — a wheat beer infused with the same strawberry fruit used in St. James Winery's popular strawberry wine.
Cranberry Cream Ale — using the same cranberry fruit used in the winery's wine.
Six Degrees Chocolate Porter — with real chocolate nibs from a Missouri chocolatier.
These are the winners. Stacy says they experiment all the time, and if people don't like them, they are brutally honest. But if they do like them, the brew is scaled up. Last year, the firm brewed somewhere between 500-700 cases of the strawberry wheat. That number will be closer to 4,000 this year.
"You get the full strawberry effect," Stacy says. "But it's not like a strawberry Jolly Rancher. More like strawberry jam spread over a warm biscuit."
If that sounds like a hybrid, it's because it is. Stacy says he sees a lot of convergence and crossover in consumer trends, especially with the younger generation. And the brewery and winery are now in a position to work with each other and try different things.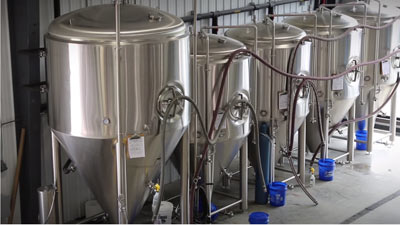 Beer tanks at Public House Brewing.
Public House's beers are currently sold throughout Missouri and in Arkansas and southern Illinois. St. James Winery has a reach of at least 18 states plus the District of Columbia and more than 40 years of marketing experience, potentially making Public House brews available nationwide with far less of a learning curve. "It's a decade worth of bootstrapping we have been able to jump over," says Stacy.
Not that the Joshes are in a big hurry. Their goal is not to rival the huge South African and Belgian conglomerates but keep things real in their own back yard.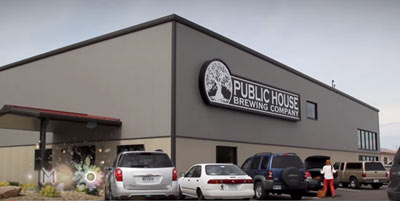 Public House Brewing's new main brewery and tap room in St. James, Missouri.
"Our back yard (the Rolla-St. James area) has been really good to us," Stacy says. "We are not looking to expand our footprint. We have gotten a lot of success in Arkansas, southern Illinois, too, and our attitude is: Let's take care of customers here before we push out farther."
Then again, that's what they said years ago in Stacy's garage.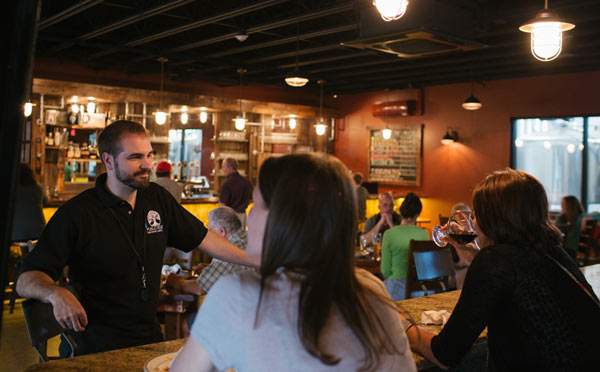 Josh Goodridge serving at Public House Brewing Company.