RJ's Italian Ice- Jefferson City, MO
Published:

Tuesday, Jan. 7, 2020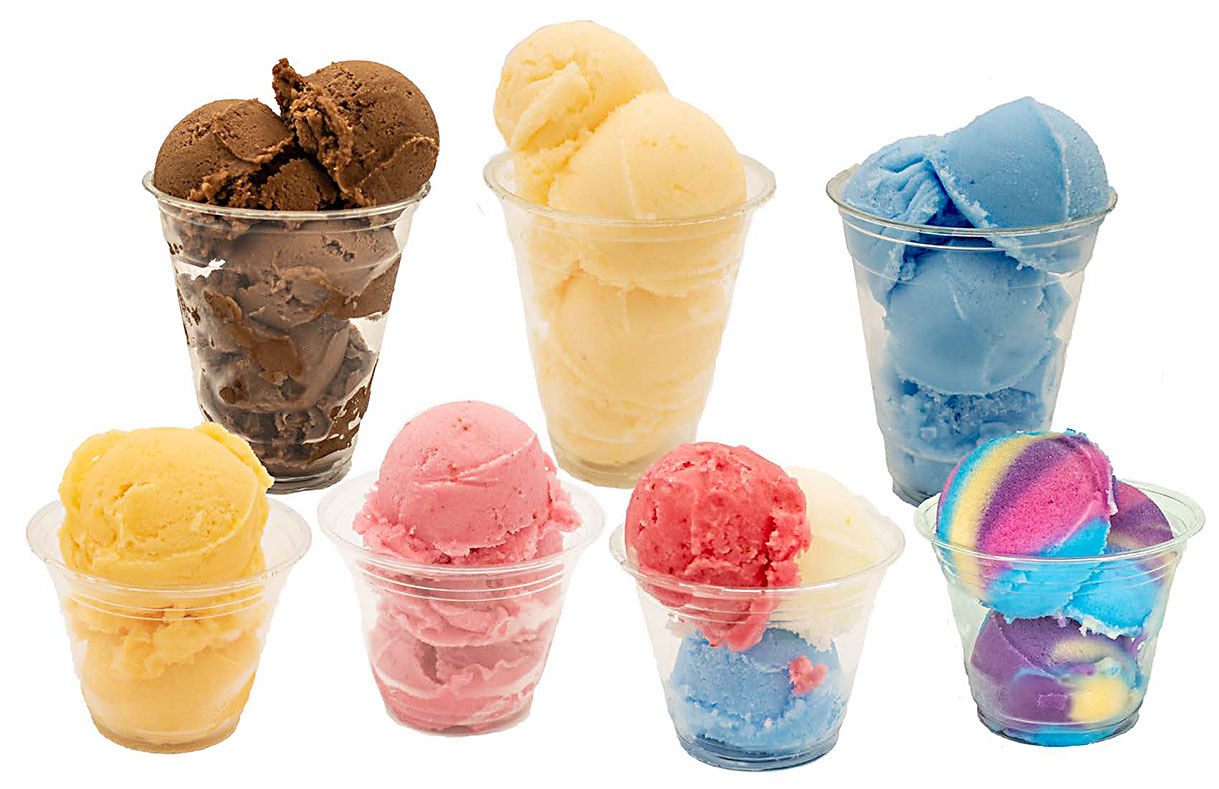 Growing up in Philadelphia, Rita Huff enjoyed a creamy frozen treat called Italian ice. As an adult, however, she realized that Mid-Missouri was missing out on the refreshing flavor. After marrying Jeff Huff in 2015, Rita was looking for what to do next. The more she thought and read about Italian ice, the more excited she became.
"Jeff would ask what I was reading about and I told him, 'Italian ice.' His response, 'Oh, like shaved ice?' I responded, 'Jeff those are fighting words.' So, I had to educate him on the BIG differences," Rita said.
After much research, the Huffs decided to go all in and start their own business. They established RJ's Italian Ice, where they create their own all-natural, dairy and gluten-free Italian ice. They use real fruit in the fruit-based flavors and refuse to use artificial dyes or flavorings. They are proud to offer delicious treats that everyone can enjoy.
"We always get people that come up to us at festivals and ask if our product has anything they're allergic to, and we're able to speak with confidence and say exactly what's in [it] because we make it ourselves," Jeff said.
When they started their business in 2016, the Huffs were able to use their prior experience and knowledge to get the ball rolling. Jeff's education and job as a computer graphics professor gave them the ability to create their signage and figure out profit margins. Rita had run a successful daycare and home-based jewelry business for a large part of her life, so she understood how important it is to stay organized and keep records of everything.
The Huffs found that their business was doing well, but had new ideas to help it grow even more. They entered into the 2019 "Pitch It to Win It" contest with the goal of winning $5,000 to help grow RJ's Italian Ice. During the interview stage, Jeff and Rita were introduced to Lauren Carter, the director of the Missouri Small Business Development Center (SBDC) at Lincoln University. Carter worked closely with the Huffs to develop and perfect their pitch.
Through the whole process, Carter encouraged the Huffs and gave advice on what type of information was important to include in their pitch presentation. She helped them develop a stronger business model and plan, and assisted them in figuring out the benefits of winning the contest and how they would use the money to execute the plan.
"[They] have so much passion for what they do. The energy they bring to every meeting is amazing," Carter said of the Huffs.
When it was time for the "Pitch It to Win It" contest, the Huffs presented their idea of offering their Italian ice products in stores. With Carter's help, they won first place and $5,000 to make their next goals a reality.
Now Jeff and Rita have an opportunity to share their product with even more people. Since the Huffs started their business, they've grown tremendously. They are always out in the community catering events like weddings, birthday parties, graduations, festivals, and corporate events. Educating people on what Italian ice is can be an obstacle, but once people try a sample, they can't get enough.
"We're constantly coming up with new ways we can get our product out there. That's what led us to proposing to roll our product into stores," Jeff said. "With luck and a positive response, we can further develop the number of stores that we're in and keep growing."
Although RJ's Italian Ice didn't begin with the SBDC, they can't wait to utilize the services and resources Carter has introduced them to. "We're really looking to grow our business," Rita said. "I know [the SBDC] has ways they can help us stay on target and make sure we're on the right path. I think Lauren helped us see the potential we have and how far we can go with it."