Self-performing woman-owned construction business pushing it forward, Hartline Construction - Kansas City, MO
Published:

Friday, Sept. 10, 2021

"Why are you not doing this on your own?" a general contractor once asked Jennifer Hart, who was managing a project for him.
That question got Hart thinking.
In 2009, Hart, now 100% owner of Hartline Construction in Kansas City, Missouri, had been furloughed from a commercial architecture firm.
"The 2008 recession hit, and architects were hit the hardest earliest," Hart said.
She enjoyed working for the self-performing design-build company, but the jobs weren't coming in. Furloughed, she performed volunteer work using her degree and her design capabilities. Then she joined an HVAC company as a project manager.
It was while managing one of those HVAC projects that she was asked that fateful question.
"I decided to open up Hartline Construction, focusing on self-performing the carpentry packages versus HVAC," Hart said.
It wasn't long before Hartline had grown enough that it became her full-time endeavor.
In the past few years, if you had a bite to eat in the Red Lotus Restaurant at Argosy Casino in Riverside, Missouri, you were surrounded by a Hartline Construction build; if you waited for a bus in Kansas City, you might have been standing on a concrete pad upgraded by Hartline; if you visited City Hall in Smithville, Missouri, you were in the midst of a renovation completed by Hartline Construction.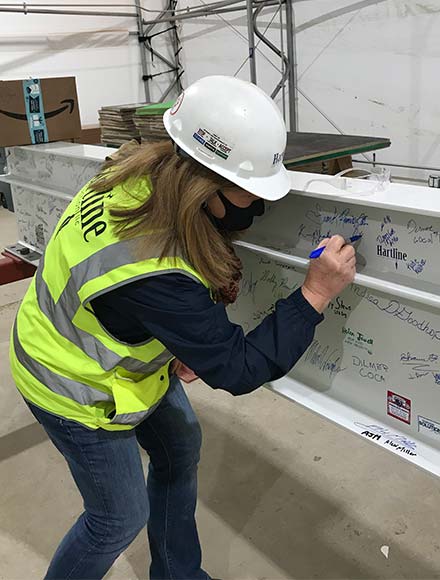 Jennifer Hart signing a construction beam prior to installation at Kansas City International Airport's modernized terminal.
In 2023 when you take off from Kansas City International Airport's modernized terminal, you will witness carpentry, painting, trim and tile all self-performed by Hartline Construction.
Over the past decade, Hartline Construction has made a name for itself in the Kansas City area culminating in being named a 2021 Top 10 Small Business by the Greater Kansas City Chamber of Commerce.
Early this year, the Missouri Small Business Development Center (SBDC) invited Hartline Construction to be one of 12 companies to participate in the Elevate program. Elevate focuses on second-stage businesses. A second-stage business is typically one with 10 to 99 full-time employees, $750,000 to $5 million in annual sales, and an opportunity to grow beyond its current market area. (Learn more about the Elevate program in this article.)
While working on her architecture degree, Hart did not take a single business course. Since deciding to become a business owner, she has been doing her homework.
"Coming out of the recession and opening my own company, the one thing I was very concerned about was that we would not last more than five years," Hart said. "So, I put myself in every business class I possibly could think of."
The Elevate program is the latest of those classes.
Programs like Elevate "help small companies push it forward," Hart said.
Elevate does that through individual engagements wherein each business owner works with a team leader who helps to determine the business's right next steps and calls on specialized consultants for support, and roundtable meetings of all the participants facilitated by Edward Lowe Foundation experts to share experiences and explore their most pressing issues.
The Missouri SBDC, in partnership with the Edward Lowe Foundation, was able to offer the Elevate program to 12 Missouri small businesses at no charge through funding from the Coronavirus Aid, Relief and Economic Security (CARES) Act. The 12 businesses were selected from a group of companies recommended by their SBDC business consultants.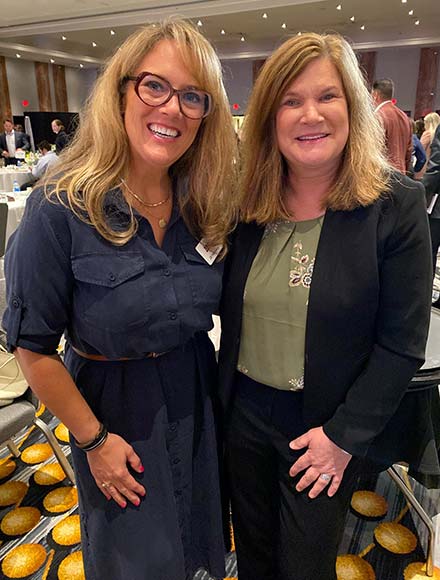 Jill Hathawy, Missouri SBDC business development counselor, and Jennifer Hart, owner of Hartline Construction.
"[Hart] is a consistent learner," said Jill Hathaway, business development consultant at the Missouri SBDC at the University of Missouri–Kansas City, who nominated Hartline Construction for the Elevate program.
Hathaway saw the program as a way for Hart to "take herself out of the day-to-day operations of the business to focus on the overall vision of the business."
It was a great opportunity for Hart — to have consultants throughout the country looking at her specific needs and to have peers at a similar level of business experience, revenue and growth-readiness sharing their challenges, Hathaway said.
"What I liked about this class and why it was different was they actually gave me mentors that were not in the Kansas City area. They knew nothing about Hartline Construction … but they wanted to find out about Hartline and help it succeed," Hart said.
"All three key people sent me actual documents on what Hartline could do to move forward," Hart said.
Thanks to the marketing consultant, Hart has a marketing plan she can implement.
Thanks to the sales consultant, she has a list of potential clients, some of whom Hartline is already working with, but some that they aren't … yet.
Thanks to the social media consultant, she has suggestions on how to improve Hartline's website and social media presence, some of which are already being acted on.
"In addition, the networking with the other businesses has been good," Hart said.
During the roundtables, they discussed "hiccups in the road" and advised each other on how to overcome them.
Hart said she especially appreciated the "confidence that whatever you said was going to stay in the room," that your private business situation wasn't going to "go global."
Having added another business course to her transcript, Hart is ready to continue pushing it forward.
Hathaway, who visits Hartline Construction monthly, will be there to remind Hart of her strategic map and to hold her accountable.
"The consultants offered great next steps," Hathaway said. "I will continue to work with Hartline on putting those into play in a timeline that's relevant with the needs of the entire business."
Website: https://www.hartlinekc.com
Facebook: https://www.facebook.com/hartlinekc
LinkedIn: https://www.linkedin.com/company/hartline-construction-kc
Writer: Victoria Stokes