Serving children with differing abilities, Unearth Potential - Joplin, MO
Published:

Wednesday, June 29, 2022

When one business closes, some people open another one.
That's what Anita Archer and Erin Phipps did when the behavioral health clinic they worked for shut down.
When Archer and Phipps, behavior analysts and owners of Unearth Potential in Joplin, Missouri, learned about the impending closure, they worried about all the families that would be left without services for their children with differing abilities.
"We saw that there was a big need in our area," Archer said.
With the encouragement of the families they were then serving, the women decided to open their own clinic.
Unearth Potential provides one-on-one applied behavioral analysis (ABA) therapy and social groups for children with an autism diagnosis, attention-deficit/hyperactivity disorder (ADHD), a speech or developmental delay, or behavioral problems. It also offers training and consultation for caregivers, schools and day care centers.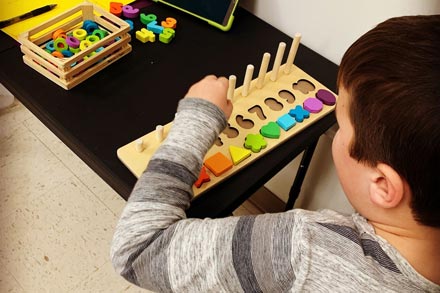 In early October 2020, only days after the doors closed on the one business, Archer and Phipps contacted the Missouri Small Business Development Center (SBDC) for guidance on opening their new one.
"We were trying to build a business plan and figure out how we were going to fund this little adventure," Phipps said. "We went in with an idea of what we wanted. We have enough of a background from our clinical experience that we knew kind of how things should operate; we just didn't know how to make it happen."
Katie Fields and Ken Surbrugg, business consultants with the Missouri SBDC at Missouri Southern State University in Joplin, served as their guides.
Fields said that Archer and Phipps didn't want to find different jobs. "They saw a need for what they do in the community, and they wanted to keep doing that."
"They knew they need to get some sort of funding to help them get their business off the ground," Surbrugg said. "So, we educated them on creating a business plan and then financial projections and budget."
"Katie and Ken walked us through the steps of a business plan so that we were ready when we went to the bank," Archer said.
At the advice of their business counselors, Archer said the business plan included letters from families that were planning to sign up for services as soon as they opened.
"They literally proved their concept with their cash flow in their business plan," Fields said. "They showed the bank that even though they had no income, they would make money. And they ended up getting approved for a line of credit."
Within two months of connecting with the SBDC, Archer and Phipps saw their first client at Unearth Potential.
"We've been able to grow from there and add employees and clients," Phipps said.
Their initial goal was to support the families that were displaced by the closure of the other clinic.
"We were able to do that," Phipps said. "Now we've been able to start building up our new base of clients, and we've moved into a new and larger space. So, there's definitely demand, and we're trying to meet it."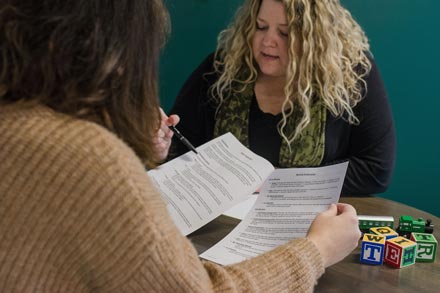 As much as they want to be able to help all the families who need their services, they are trying to be thoughtful about growth.
"We're in a helping profession, and that's what we want to do is help," Phipps said. "But if you're not careful, you end up growing so fast that you're not supporting your staff."
While they slowly build, Archer, the dreamer, is envisioning their future.
"I really see us outgrowing this space and expanding into the suite next door within the year," Archer said. "Then we're going to outgrow this space completely and need a whole other building that, ideally, has some outdoor areas and great training rooms and a parent support room. And then I see us opening some satellite offices in some of the counties that are underserved."
Archer said there are families on Unearth Potential's waitlist that are ready to commute two hours each way for services. She sees opening offices in those underserved counties as a way to expand the business and create new jobs as well as aid those families.
"They are positioned very well in this community," Surbrugg said. "I think through coaching they could grow to other locations."
Fields added that Archer and Phipps are also expanding from the relationships they are building in the community. "They're offering internships, so they're pairing up with other educational facilities where they are accepting people to come job shadow them and do internships. So, that opens up a whole different door of opportunities for them, like advocacy."
"I would say their future is very bright," Fields said.
Website: https://unearthpotential.com
Facebook: https://facebook.com/UnearthPotential
Instagram: https://instagram.com/unearthpotential
LinkedIn: https://linkedin.com/company/unearth-potential
Writer: Victoria Stokes