Published:

Saturday, Feb. 14, 2015
An unbelievable delight.

The best I've ever had, anywhere in America.

My secret obsession! I seek it out every time I go back to Kansas City, and I've had special shipments of it sent here to Las Vegas. Yes, I'm dead serious. It's that good.

Does anyone know if there is a 12-step program to help me with my addiction?
These are the kind of comments usually reserved for dangerous substances. In the case of two of these reviews, that's close to the mark, for they describe the fresh, all-natural chocolate milk created, placed into glass bottles, delivered and sold by the Shatto Milk Company, Osborn, Missouri, located just east of St. Joseph. Shatto Milk products are sold only within a roughly 100-mile radius of the farm.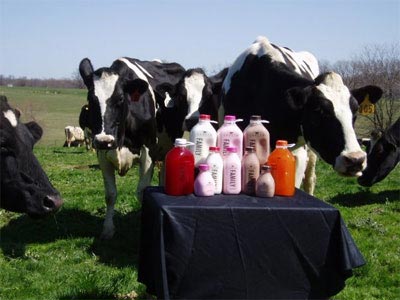 Shatto Milk comes only from the cows located on the family farm. The milk is truly fresh and can be delivered from cow to store in as little as 12 hours.
This very high quality and dedication to local, sustainable practices are just two reasons the Shatto Milk Company was recognized as an Excellence in Business Award winner at the 2015 Advocacy Day held in early February in Jefferson City, Missouri. Co-owner Leroy Shatto also received a legislative resolution from Rep. J. Eggleston, District 2, recognizing the firm's contributions to the economy of this rural area. The events were sponsored by the University of Missouri Extension Business Development Program (BDP).
Several other award winners were gratified to hear Shatto was in attendance. "Shatto's here, really?" another winner said. "I hope he brought cotton candy [flavored milk]."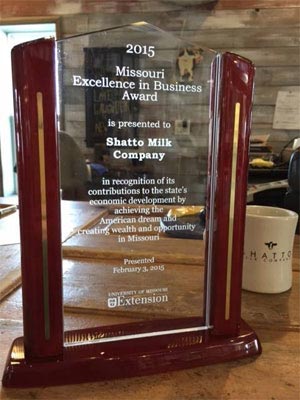 Shatto Milk was recognized for Excellence in Business during the BDP Advocacy Day in Jefferson City, Feb. 3-4, 2015.
Shatto milk is produced in a variety of flavors — chocolate, cotton candy, cookies and cream, banana, root beer, coffee and pumpkin, among others — that change with the seasons. The firm also produces ice cream and cheese. All these dairy products originate with the milk from a contented, roughly 400-cow herd. This happy herd grazes on a farm that's been in the Shatto family for more than a century.
After milking, the milk is pasteurized and homogenized slowly on site to about 170 degrees, not at the very high temperatures and speed characterized by many dairy co-op's operations. Shatto's cows are also not treated with rbST (recombinant bovine somatotropin) or recombinant bovine growth hormone (rbGH), and their bedding is natural, leftover sawdust.
Further, the milk is bottled and sold in reusable glass bottles, which customers say tastes better because it doesn't pick up the petrochemicals found in jugs and cartons. These retro-looking bottles are emblazoned with words like "Pure," "Local," "Family" and "Fresher." All this adds to the brand's appeal, and owner Leroy Shatto is determined to keep it that way.
"It's a family operation," he says. The firm now employs 45 individuals in dairy operations and in an onsite store but he, his wife Barb and son are involved in the day to day operations of the farm. This, he says, ensures quality. "We don't put out the cheap stuff. We do the good stuff."

The Shatto family has been farming in northwest Missouri for more than 100 years.
He adds that Shatto Milk has been approached numerous times to expand its product reach in Missouri and nationwide, but he doesn't see that happening.
"We can't even keep up with demand in the Kansas City metro area now," he says. "I worry about getting so big we screw things up. If you do that, you're done."
This attention to detail has paid off. The company has been named a Kansas City's Top Company and won first prize at the World Dairy Exposition (for its root beer milk), among many other awards.
Being the owner of a perennial prize-winning dairy operation was not the career path Shatto had in mind. He wanted to be in aviation like his father, who worked for TWA. Shatto and a friend attempted to enlist in the Air Force. That friend went on to become a pilot, but Shatto was rejected because of his vision. (He wears glasses today.)
He had worked on the farm Barb grew up on since his teens, and he took on co-ownership after he and Barb married. By the mid-1990s, the farm's future looked bleak. The dairy business was caught in the wave of farm crises that rocked the nation in the 1980s and 1990s. Co-ops were paying less for milk than what it cost farmers to produce it. Shatto recalls that local co-ops were paying dairy farmers less than $11 per 100 pounds and it was costing them more than that to produce.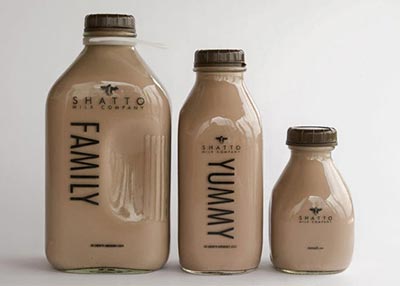 Delicious, fresh Shatto Milk comes in a variety of flavors and sizes in reusable glass bottles.
But the Shattos had a vision: independence. So they threw out the standard dairy business plan that requires co-ops to sell milk. After being rejected by multiple banks, the Shattos secured a loan and sent out their first milk delivery to eight stores in 2003.
Today, more than 100 Missouri and Kansas retailers carry Shatto Milk products, from supermarkets Price Chopper and Hy-Vee to the upscale Dean and Deluca gourmet food chain and health food stores.
Shatto says the assistance of Darrell Brammer, director of the University of Central Missouri Small Business and Technology Development Center, has been instrumental to his company's success.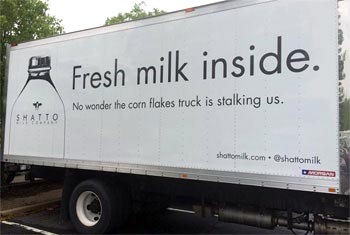 Shatto Milk delivery trucks carry their products to market while displaying Shatto's trademark humorous marketing.
In 2013 and 2014, Brammer sent a team of University of Central Missouri graduate students to analyze bottle waste, milk waste, delivery routes and marketing strategies, among other items. As a result, Shatto Milk Company has eliminated some fuel waste, employee time wasted, reduced wear and tear on trucks and incurred other savings measures, increasing sales by nearly $1 million.
The students also conducted employee surveys which produced business recommendations as detailed as ways to more efficiently utilize the farm's bottle capper. "Every time we lose a cap, that costs money," says Shatto. "Maybe not a lot, it's not a truly big thing, but it's little things like this that help our operation."
Brammer helped with a big thing, too, assisting in the preparation of a USDA Rural Development grant application for a manure digester. Four hundred cows produce more than just milk. With Brammer's help, the company secured the $250,000 grant.
"Everybody down there [at the University of Central Missouri] has been so good to us — teachers, students, everyone. And Darrell is a real go-getter. He does everything he can to help us. Really, everybody has been just great."
Watch this video on the Shatto Milk Company (13 minutes).