STI Technology Solutions, Inc. – Jefferson City
Published:

Monday, June 16, 2014
John Smallwood, founder and co-owner of STI Technology Solutions, Inc., a full-service IT and telecommunications firm in Jefferson City, has unusual knickknacks, paintings and other items on his walls, shelves and around his office — animal carvings by his uncle, art collected while his parents lived in Europe, photographs of himself and his family. There's also a photo of a well-bundled individual on a snowmobile against a backdrop of foreboding Alaskan mountains.

John Smallwood with some of his carvings and artwork.
John Smallwood, founder and co-owner of STI Technology Solutions with some of his carvings and artwork.
Who'd be crazy enough to go snowmobiling in the Alaskan winter, when temperatures regularly reach -40 F and there's barely six hours of daylight?
"I miss the winters," he says, looking at the photo. "You learn how to overcome." Alaska, he says, also teaches you valuable social skills; there isn't a whole lot to do outside after about 3 p.m.
Alaska wasn't in his plans after graduating from Truman State University, Kirksville, with two degrees in industrial technology. He landed a drafting job in Indianapolis for a mechanical engineering firm where he logged hours upon hours transferring car part diagrams into an Auto CAD system. "I would sit there and just copy and copy," he says. "It's enough to kill you."
So he decided to chuck it all and move to Alaska. There he flipped eggs for five years at a roadside café by Denali National Park. He returned to his fiancée, now wife (she refused to move to Alaska) to work as a telecommunications coordinator with a Jefferson City doctors' office. After Alaska, he says he didn't let the sometimes imperious doctors and byzantine procedures intimidate him.
But he wanted more out of life.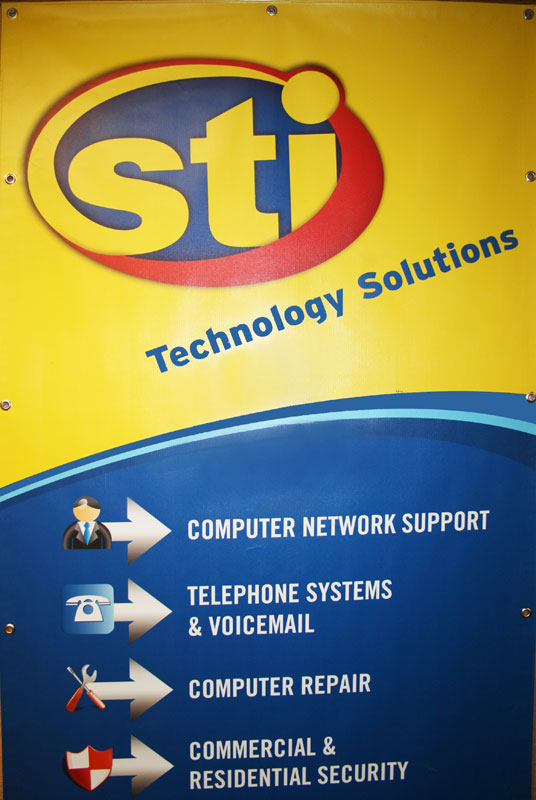 An STI sign.
He started the firm that would become STI in April 2002. A friend who owned a computer business was getting out of the business, and referred Smallwood to a few good clients. By November, he says, he had so many clients he couldn't serve them all himself, took a partner and began hiring staff.
He met Chris Thompson, MU Extension Cole County business development specialist, about seven years later when his business was well past teething issues and had real growing pains. And Thompson and Smallwood have been meeting twice a month ever since.
Over the years, Thompson has helped Smallwood and his partner with a blizzard of personnel, financial, contractual, workflow, organizational, process and procedural issues, often straying far outside both their comfort zones. If Thompson didn't know how to unravel a knotty problem, he found someone who did.
Where has Thompson helped the most?
"Oh, HR, definitely," Smallwood says. His varied experiences hadn't prepared him for handling employees, and "that's where Chris' assessments come in. He's been a great resource, and we have spent a lot of time on it. Probably what helps my comfort level the most has been our discussions about my HR issues — what to do when something is not working, best practices in certain situations, what's recommended, suggestions on how to approach somebody who's not performing," he says.
"My unfortunate outlook on life is I just want to go do it!" he says. But this can-do entrepreneurial spirit doesn't always translate to management. "I've learned if you want people to do what you wish, you have to say it very clearly," double-checking that they understand what's expected of them, he says.
He and Thompson have also collaborated on writing job descriptions; bonus, vacation and sick day policies; preparing interview questions; cobbling together after-hours duty rosters so Smallwood, now a family man, isn't on call 24/7 anymore; and many, many other issues. Smallwood says computer support services was cyclic until recent years, with slow times in summer, but now demand is year-round as society has become more dependent on computers for well, everything.
In the period of this collaboration, STI revenues have grown about 150 percent and its employment to nearly 20 individuals in two divisions, IT and telecomm, serving about 400 clients. The IT unit provides data backup, repair and maintenance, email services, network support, website development and hosting, among other services; the telecomm unit, telephone services, cabling, commercial and residential security through card key systems, video and closed circuit TV, monitoring and alarm systems.
2013 revenue growth is slightly down after a very good 2012-13. Smallwood says he continues to see growth in security, however.
"It [security and alarm systems] is the fastest growing market we have right now," he says. "When people are having businesses broken into all across Missouri, you get a lot of requests for these systems — closed circuit TV, that's very big right now. A lot of people want to catch events on video." The firm recently installed a highly sophisticated system for a mid-Missouri supermarket chain to help curb employee pilferage.
Yes, life is challenging for Smallwood. But the Midwest is still not Alaska.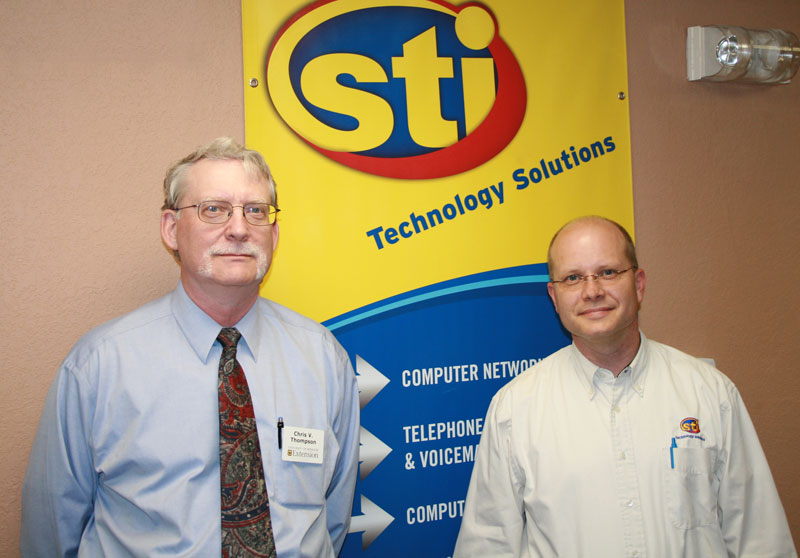 MU Extension business development specialist Chris Thompson with John Smallwood.
"We did a trek along the 11 Point River in Arkansas a couple weeks ago," he says. "That was nice. We also did a 26-mile trek out in the Irish Wilderness [in southern Missouri]. That was really pretty. Missouri has a lot of nice places. You get a lot of diversity, from the Ozarks to the prairie in the north."
He also appreciates the diversity of help Thompson continues to provide. "Chris critiques me a lot!" he says. "What has happened over time is that we [he and his partner] have realized when we need help," and ask Thompson.
While the MO SBDTC may not be able to help much with wilderness destinations, it is here to help your small business avoid the bears and deep-freeze of an often fickle economy.