TD4 Electrical, LLC – St. Louis
Published:

Saturday, Aug. 16, 2014
What do St. Louis' gleaming new Ballpark Village, its new art museum addition, the Iowa State Cyclones, the NFL's all-time top rusher Emmitt Smith, IBM and the rain have in common?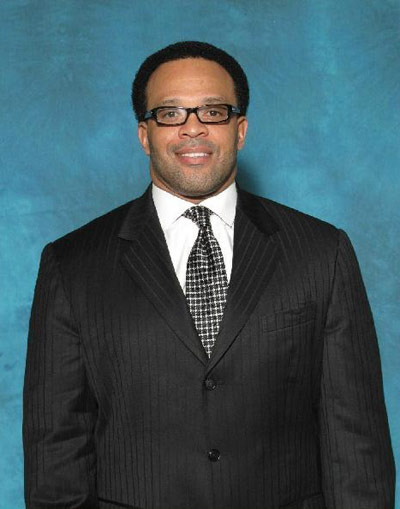 Tommy L. Davis, Jr., president and founder of TD4 Electrical, LLC, St. Louis
They've all been illuminated or transformed by Tommy L. Davis, Jr., president and founder of TD4 Electrical, LLC, St. Louis, a full-service, minority-owned electrical contractor certified as a Minority Business Enterprises (MBE) by the St. Louis Minority Supplier Development Council and the St. Louis Airport Authority. The firm, started in 2006, has grown from a bright idea to 30 employees and multi-million dollar revenues with the help of the University of Missouri Extension Business Development Program (BDP) and Kevin Wilson, director of the St. Louis Small Business Technology & Development Center, a BDP program.
Davis says Wilson has been involved in one way or another since TD4's day one and has been invaluable as a mentor, strategist and business development expert.
The son of an Upward Bound director father at Southern Illinois University-Edwardsville and a mother who graduated from law school and taught legal studies for 30-plus years, Davis attended Iowa State University and was a star running back with the Cyclones. His son Tommy III has followed in his footsteps in both football and business, and is ranked third all-time at Northern Illinois in kickoff return yards. He's also currently a project manager for TD4 Electrical.
The elder Davis put his college experience and the training he'd acquired from IBM's Technical Service Solutions, now IBM Global Services, to work in creating an executive position for himself at financial services firm A. G. Edwards (now absorbed by Wells Fargo). At A. G. Edwards, he noticed the company was actually losing money through poor satellite transmission.
"When it rained they lost millions a day!" he says. "Transmission was designed to go through the air, not water," he says, resulting in often-garbled data and trade confirmations that could take up to three days and create large margin losses. From his IBM days, he knew newer systems could reduce that lag time; with A. G. Edwards' blessing, he and a team of managers implemented a solution that reduced trading time to one day.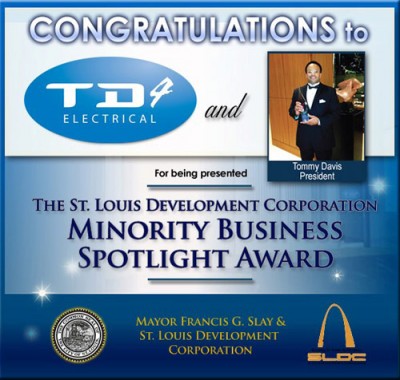 One of TD4's many awards.
Meanwhile Davis, like virtually every red-blooded sports fan, was acutely aware of the multi-billion dollar sports memorabilia market. So are many teams who have had jerseys, helmets and caps mysteriously vanish after World Series or Super Bowls, to pop up on eBay or worse. Authenticity is also a problem; the FBI estimates that anywhere from 50 to 90 percent of sports memorabilia is fraudulent.
So he founded WeTrak, raising millions of dollars in venture capital to develop two software products enabling teams to track, manage and authenticate all their equipment and memorabilia. Davis holds two patents for his work.
Capturing the St. Louis Rams and Dallas Cowboys as early clients, WeTrak placed RFID chips in the jerseys worn by the St. Louis Rams and tracked Smith's record-breaking 2002 season. Smith and Cowboys owner Jerry Jones almost immediately realized WeTrak's potential, purchasing the company in 2005. The football alone Smith carried the day he broke Walter Payton's record is worth an estimated $63,000.
Between startups back home in St. Louis, the always alert Davis picked up the paper one day and saw that the city of St. Louis required 25 percent MBE and five percent Women Business Enterprise (WBE) participation on its construction projects.
Davis, having spent his entire career in the private sector or as a high-tech entrepreneur, didn't even know what MBE or WBE meant. But he soon found out — an increasing amount of new construction, especially in cities like St. Louis, requires MBE participation — and he became a consultant to a top builder, responsible for its minority participation.
And another entrepreneurial opportunity occurred to him. Davis, with the help of wife and soul mate Toni, had previously operated an electrical supplies distribution firm, so they had some grounding in the field.
So the fearless Davis founded TD4 Electrical, LLC, with the direct help and guidance of Kevin Wilson, director of the St. Louis Small Business Development Center (SBDC). Davis says Wilson has served TD4 in almost every capacity — mentor, strategist, business development and much more.
Today, TD4 counts among its successful projects the lighting in the magnificent new addition to the St. Louis Art Museum, Ballpark Village, River City Casino, Washington University and with a who's who of Fortune 500 firms such as Monsanto, Centene and Express Scripts.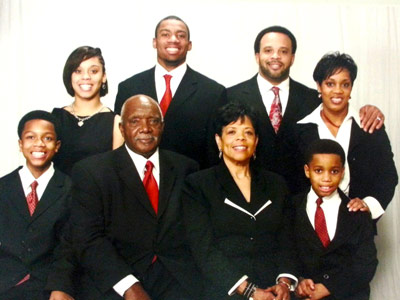 The Davis family. Tommy and his wife Toni are at far right, rear.
"We are a true St. Louis success story," Davis says. "The success of TD4 is directly related to support from the St. Louis community. There have been companies, major owners and other supporters that are so humble they would be offended if I mentioned that they have gotten us where we are today." And with the continued help and guidance of the SBDC and Kevin Wilson, "TD4 is positioned to take its business to the 'NXT-LVL.'
"Family is what I am all about," he adds, hoping all his children will want to join the company in some capacity someday, including a son who's a budding musician, another a young football prospect and a daughter who might be a good lawyer. "I say that because she's the only one who can out-talk me!" he laughs.