Theodosia Family Medical Clinic, LLC — Theodosia
Published:

Monday, May 18, 2015
The U.S. is facing a severe shortage of health care providers as the baby boom generation ages and more people acquire health insurance. The Association of American Medical Colleges predicts a shortage of 90,000 doctors in just five years and that this number will swell to more than 130,000 in 10 years.
The situation is even worse in rural areas such as Ozark County.
There isn't a single resident physician in the entire county and only one ambulance. For the increasing number of aging baby boomers, residents as well as retirees flocking to Bulls Shoals Lake, that's more than an annoyance. It can be a matter of life and death.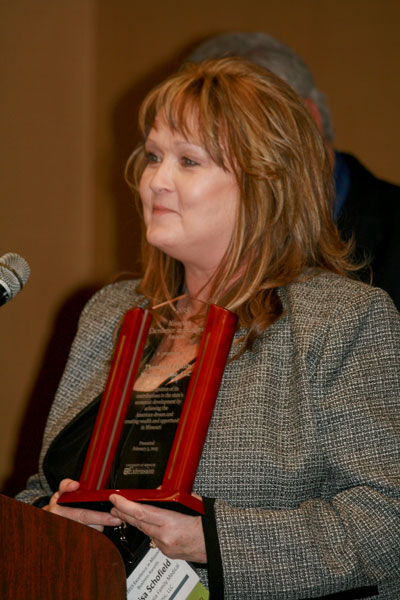 Lisa Schofield established the Theodosia Family Medical Clinic to provide health care for the community.
Lisa Schofield, originally from the unincorporated community of Protem in southeastern Taney County, about 10 miles north of the Arkansas state line, decided to change all that. She is owner of the Theodosia Family Medical Clinic, LLC, in Theodosia, a clinic with highly experienced nurse practitioners (NP) and physician assistants (PA) on staff, with an off-site doctor supervising. As anyone who has been to a practice lately knows, NPs and PAs are more than qualified to care for the aches and pains of daily life.
Schofield is not a physician, NP or PA, however. She started in the field as a receptionist for two doctors in Forsyth, became a licensed medical aesthetician providing microdermabrasion, chemical peels, skin care, Botox and other spa treatments, which she still does at the clinic. She also discovered she had a real gift with people and organization. After running a clinic for the doctors, she struck out on her own to establish the Theodosia clinic.
She soon ran into trouble.
A key private investor pulled their loan. Schofield, however, knew where to turn and contacted Willis Mushrush, business development and procurement specialist, University of Missouri (MU) Extension-Howell County Small Business Development Center (SBDC). The SBDC is part of the MU Extension Business Development Program (BDP).
Mushrush immediately began to research local government, SBA and other loans and grants. He then helped her rework her financial assumptions, projections and cash flow to perfect a business plan, helping her present it to the local government council for a loan. Rep. Lyle Rowland, who also firmly believed in what Schofield was doing, also accompanied her to the loan meeting. The loans were approved.
Mushrush also helped Schofield through the arduous process of applying for formal federal rural health clinic certification, required to receive Medicare and Medicaid reimbursement. Schofield estimates 90 percent of the clinic's income comes from Medicare and Medicaid.
Is it challenging? Yes, she says, every day, but "I couldn't imagine doing anything else," she says. "I faced so many challenges! But with the help of the good Lord above, we made it. You have to love this area, see the need and want to do something about it."
Becoming federally certified was always a goal — "And Willis helped so much to meet that goal. He's been really good."
Not that federal certification is the key to riches. "I didn't start this business to get rich. As long as I can pay my staff and keep the doors open, that's enough for me," she says.
She's done far more than that. In just three years, Schofield has transformed an idea into reality with revenues topping $400,000, employing seven people in a chronically economically depressed area .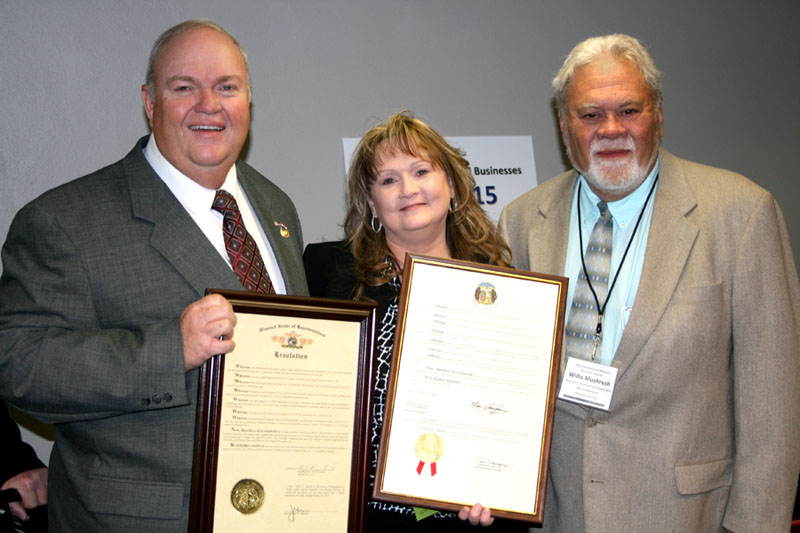 Lisa Schofield, owner, Theodosia Family Medical Clinic, with Rep. Lyle Rowland (left) and Willis Mushrush, Howell County SBDC, at 2015 Excellence in Business Awards, February 2015
For bringing health care to Ozark County and for sheer perseverance, Schofield was named an Excellence in Business Award winner at the 2015 BDP Advocacy Day held in February in Jefferson City. She also accepted legislative resolutions from Rowland and the Missouri Senate recognizing her contributions to the local economy.
Schofield admits she's had some turnover — "You have to have the desire to live here. It [rural life] is not for everyone," she says, adding that she has found a good new PA.
Another caring person from small town Missouri?
"No!' she laughs. "From New York City."
Compassion has no geography.