Triple R Recycling, LLC – Joplin
Published:

Monday, June 16, 2014
Triple R Recycling, LLC, a pallet and cardboard recycler in Joplin owned and operated by husband and wife Alicia and Ricardo Rodriguez, didn't start out with that name.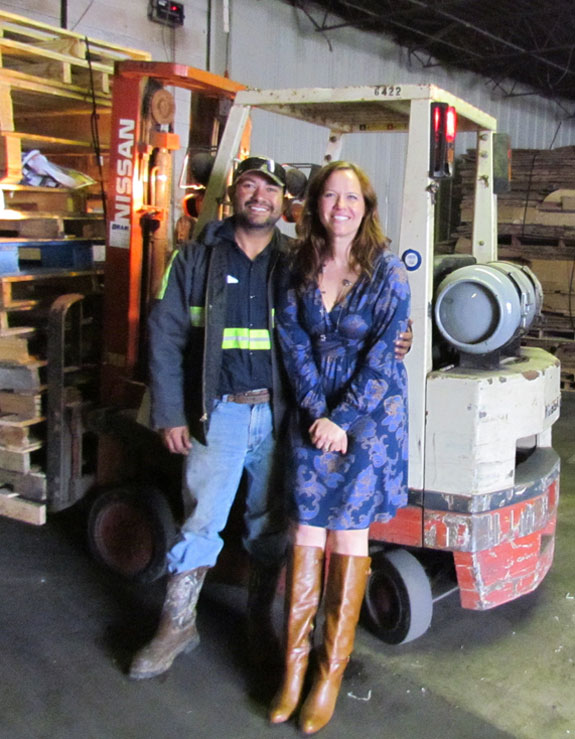 Ricardo and Alicia Rodriguez in Triple R Recycling's Joplin warehouse, with recycled pallets.
The second-generation recycling company was supposed to be called Triple P — for pallets, paper and plastic, the big three of industrial recycling — but when Karen Bradshaw, business counselor and director of the Center for Entrepreneurship at the Missouri Southern State University (MSSU) Small Business Development Center (SBDC) and Alicia went to register that business name with the Missouri Secretary of State's Office, they found there already was a Triple P Recycling.
"And I was like, Uh oh, what do we do now?" Alicia says by phone on her way to a court appointment. Alicia, fluent in Spanish, is also the area's only state certified court interpreter. The job pays well, it's allowed her to spend time with her four children and the income helps in tough times, such as when they first got the business started almost two years ago. She had just turned in a grant application with Region M Solid Waste District under Triple P and didn't want to create a problem on the application — so "I just changed the Ps to Rs. Really!" She says that her husband's name originally had three Rs; they shortened it to Ricardo Rodriguez when he because a citizen years ago.
This sort of serendipity and thinking on their feet has characterized Triple R from its beginning in late 2012. Her father had owned and operated a Joplin recycling company since 1972, where Ricardo worked as a warehouse manager for 15 years. Although her father had promised Alicia and Ricardo they'd run the company when he was gone, he had left nothing in writing.
When her father died, the company nose-dived into squabbling and acrimony and her mother gave the firm to her oldest brother. Within three weeks of the transfer, the Rodriguezes walked away from the company Alicia had grown up with and in which Ricardo had invested an entire career.
But the couple knew the business, the area and the players, and started Triple R Recycling from scratch with family loans almost overnight.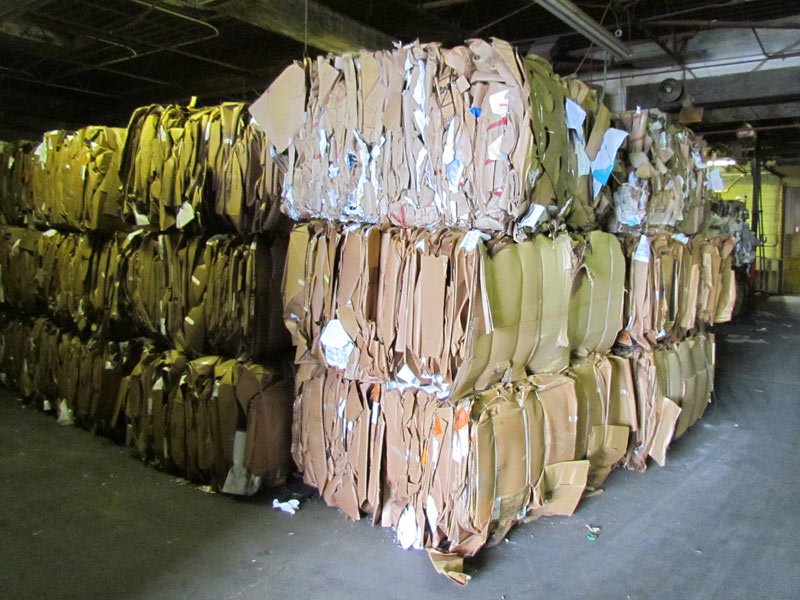 Baled paper and cardboard, ready to be recycled.
At first, they were barely able to make payroll for their roughly 20 employees, many of them coming over from her father's company, having lost their job soon after the transfer. But about eight months in, Missouri Department of Natural Resources solid waste management grant money became available and assisted them in the purchase of a horizontal baler, forklift, skid steer, flatbed and roll-off truck.
About a year after they had started their company, Bradshaw followed up to see how they were doing and if they were interested in a larger Joplin Tomorrow loan. Joplin Tomorrow seeks to restore the business community devastated in the 2011 tornado by aiding businesses destroyed and attracting and establishing new ones, such as Triple R.
With a year of financial experience under their belts and a much clearer view of where they were headed and what it took to run a company, they now felt much more comfortable applying for a loan. Bradshaw and the Rodriguezes began a round of intensive discussions to better present 12-month and three-year income and sales, expenses and projections for a loan. Bradshaw also teaches an MSSU innovation and technology class and had teams of her students prepare highly detailed industry, competitive and market analyses for the loan application and for business intelligence down the road.
Semi-automated equipment has made many processes easier, from cutting wood to make pallets …
…to dismantling old pallets.
Truck loaded with finished pallets to deliver.
To their delight, the Rodriguezes obtained a $60,000 loan from Joplin Tomorrow, using it to purchase drop-off bins, a front-loader truck and a semi-automatic pallet machine. This semi-automated machine is a vast improvement over the homemade jig Triple R previously used, says Alicia, saving employees back and other repetitive motion injuries they could incur lifting heavy wooden pallets. Their employees, she says, were a little scared at first that they'd be replaced with a machine but have now embraced it as a superior way to keep up with orders.
And the community has responded. The company enjoyed sales of slightly over $1 million their first year, and 2014 looks to be even more profitable.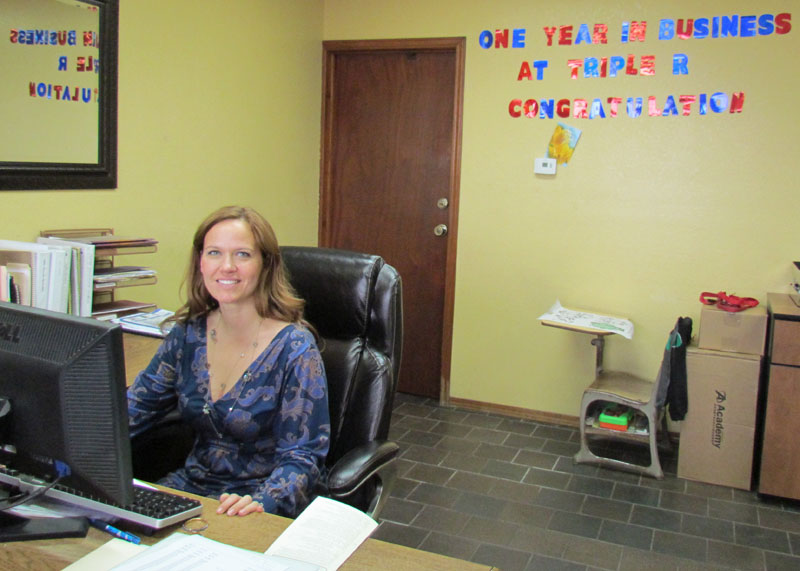 Alicia Rodriguez working in the Triple R Recycling office.
Alicia says she couldn't have done it without Bradshaw.
"Oh my gosh, she [Bradshaw] has just been amazing. She's gone the extra mile for us so many times."
Bradshaw pushed them to apply for the DNR grant, mountain of paperwork or not, when the business was new — "I didn't want to do it, it was so much work!" Alicia says. "I felt like I was always behind the eight ball, it was all so overwhelming. But she [Bradshaw] said, 'I can come over and get this knocked out.' And she did! It's been an amazing experience."