Warriors on the business automation front, Mora Technologies - Warrensburg, MO
Published:

Monday, June 28, 2021

In ancient Sparta, a mora was a unit of about 600 well-trained soldiers that moved as one. In modern Warrensburg, Missouri, Mora Technologies is a business automation startup with an ethos that echoes that of the Spartan warriors: professionalism and excellence.
Colby Thrift and Adam Haney, co-founders of Mora Technologies, are forward-thinking engineers who want to free American industry from the shackles of legacy software systems.
"Allowing software companies to, basically, effectively capture an industry so that they can't grow … can't be more dynamic … can't be more competitive … that's not good for American industry," Haney said.
"We want to bring in the new age of what we think is higher-level programming," Thrift said. "A lot of people call it the industrial internet of things or Industry 4.0 that's coming in, which includes robotics, vision systems, and 'smart' devices."
Haney served as a nuclear electrician's mate in the U.S. Navy for six years and then joined Nucor Steel Arkansas before being selected as the melt shop automation engineer for construction and commissioning of a new rebar micro-mill in Sedalia, Missouri.
Thrift started with Nucor Steel through a co-op program while completing his bachelor's degree in electrical engineering at the University of Alabama. He went on to work for the company in Birmingham and was later transferred to Sedalia to serve as the site's power systems engineer.
When Thrift and Haney moved to Sedalia to be a part of the startup team for the new mill, they did not know that within two years they would be in a startup of their own.
But about a year ago, they reached out to the Missouri Small Business Development Center (SBDC).
"Mora Technologies was not even the concept at that point in time," Thrift said. "We didn't know where we were going. But we knew we were going somewhere and the direction we were going."
Thrift and Haney have a lot of similar ideas about what the future of automation looks like, and they have the same kind of drive and ambition to learn and do things.
During the COVID-19 pandemic, they noticed how hard it was for the Sedalia mill to find outside help with automation. "We were reaching out to big engineering companies that typically charged a good bit of money and only handled certain size projects," Thrift said.
Thrift and Haney came to the realization that other small businesses were probably having the same trouble finding help with their automation needs.
After many conversations, through which they began shaping their shared vision, it became clear to them it was time to move forward, that during the pandemic was actually a good time to start their business.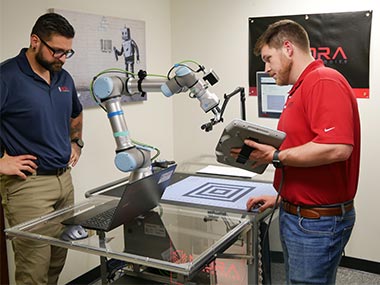 Engineers by trade and not having a business background, they sought help from the experts, and Kelly Asbury, director of the Missouri SBDC at State Fair Community College (SFCC) in Sedalia, became their business coach.
"We already figured out our culture, we already figured out what our value system was, and now it's … how do we implement this in a business model?" Haney said.
"After the first conversation I had with [Asbury], I believed in myself, like, 50,000 times more than I did going into the conversation," Thrift said. "She made me believe it was possible."
"I coached them, asked them questions, and they thought it through and came up with the solutions," Asbury said. "After they met with me, they would get together right away to do the work."
"She gave us a list of things to think about and said we should start with a business plan," Thrift said. "Working through the business plan made us ask the questions … get deeper into it."
"They think through the process," Asbury said. "They take the time, they communicate, they work together."
In January 2021, Mora Technologies was officially open for business. By June — at least six months before planned — they were already looking to scale up.
"This is fast," Asbury said. "But they're ready because they're taking the time to do the things that they need to do. They're cautious enough to plan for the next steps."
And the SBDC is guiding them as they prepare to take those steps.
"I really appreciate the structure of how [the SBDC] works," Haney said. "They don't do things for you. They say, 'This is the path to be successful, and if you will put in the work, you will be successful.'"
"We have never stopped talking with the SBDC," Thrift said.
Haney and Thrift value integrity and want Mora Technologies to be known not simply as a high technology company but as a place where quality people work and challenge each other to grow. As they prepare to scale up, their aim is to create a tight-knit, close, military-like team that helps their customers be more competitive and successful.
And the Missouri SBDC will be with them every step of the way.
"We plan to use [the SBDC] as much as possible going forward," Thrift said.
"[The SBDC] is a great use of our tax money," Thrift said.
Website: https://www.moratechusa.com
Facebook: https://www.facebook.com/moratechusa
Instagram: https://www.instagram.com/mora_technologies
LinkedIn: https://www.linkedin.com/company/mora-technologies
YouTube: https://www.youtube.com/channel/UCq8qG9SE3NaD_PDqvtfXrQg
Writer: Victoria Stokes