Population Trends in Missouri and Its Regions
Editor's note
The executive summary of this brief appears below. To view the PDF of the entire brief, please select the "Download this publication" button.
Mark C. White
Associate Extension Professor. Labor and Workforce Development
Executive summary
The pace at which places gain or lose population can reveal much about their overall economic health. Growing populations often mean an expanding economy with more potential customers and workers, while slow growing or declining populations may indicate a struggling economy that leads workers to explore employment opportunities elsewhere. The U.S. Census Bureau released its 2020 population estimates in May 2021 and these estimates allow us to examine the population change that occurred over the past year and the past decade.
These estimates show that between 2019 and 2020, Missouri grew by 0.2%, adding over 11,000 net new residents. The state grew at half the national growth rate (0.4%), but was largely consistent with many Midwestern and neighboring states. This population growth, however, has occurred unevenly throughout the state:
Springfield (0.8%) and Columbia (0.7%) were Missouri's fastest growing metropolitan statistical areas (MSA).
The Kansas City, MO-KS MSA grew slightly faster (0.5%) than the nation, while growth in the St. Louis, MO-IL MSA (0.0%) was flat.
The Jefferson City (-0.5%) and St. Joseph, MO-KS (-0.6%) MSAs lost population during this time.
Overall, 62 of Missouri's 115 counties (including St. Louis City, a county-equivalent) lost population; many of these counties were in Southeastern and Northern Missouri.
Examining population trends over the past decade offers stronger insight into the long-term population trends shaping Missouri. Since 2010, many of Missouri's metro and nonmetro areas have not kept pace with many other parts of the country. As a whole, Missouri's metro counties grew at a slower pace than the nation, and in aggregate the state's nonmetro counties declined at a faster rate than nonmetro counties nationwide. Only 11 of the Missouri's 115 counties, grew faster than the nation's annualized growth rate. 78 of Missouri's 115 counties (68%) had fewer residents in 2020 than they had in 2010; 64 of those counties were in nonmetro areas. The most substantial losses, in an absolute sense, occurred in St. Louis City and St. Louis County, the Missouri Bootheel, and in the St. Joseph area.
Two primary factors—migration (domestic and international) and natural change (births minus deaths)—drive population growth and decline. Overall, the state's 11,000 net new residents in 2020 marked the smallest annual increase in the past ten years. At the beginning of the decade, Missouri averaged 18,000 to 20,000 more births than deaths, but over the second half of the decade the state averaged only 10,000 to 12,000 more births than deaths. During this latter part of the decade, the diminished rate of natural increase was offset, in part, by positive gains from international migration. Although improving, Missouri experienced net domestic out-migration throughout the decade.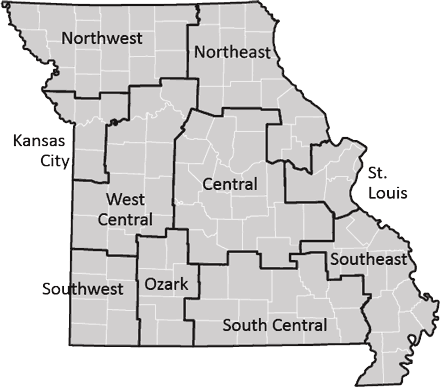 Given the unevenness of Missouri's population growth, it is important to recognize how trends differ across workforce regions, as defined by the Missouri Economic Research and Information Center.
Summarizing population growth 2010–20:
Central Region: The Central region's annual growth slowed over the course of the decade due to slower natural change and international in-migration. Boone County (Columbia, MO) drove much of the region's growth.
Kansas City Region: Over the past decade the Kansas City region reversed a key demographic trend by attracting more domestic migrants than it loses. Platte and Clay counties were two of the state's fastest growing counties.
Northeast Region: Most of the Northeast counties lost population due to net domestic out-migration. Starting in 2016, the region's overall population grew primarily as a result of the growth of Lincoln and Warren counties.
Northwest Region: The Northwest region lost almost 5% of its population since 2010 due to net domestic out-migration and negligible natural increase. Andrew County was the only gain to gain population between 2010 and 2020, and DeKalb, Holt, Sullivan and Atchison counties lost substantial population during this period.
Ozark Region: The Ozark region represents one of the state's consistent growth regions, and it grew over 8% overall between 2010 and 2020. If current trends continue, Greene County will soon become Missouri's 4th largest county-equivalent, surpassing St. Louis City.
South Central Region: The South Central region is Missouri's least populated and all 12 counties lost population 2010-20 as a result of domestic out-migration and natural decline.
Southeast Region: In spite of population growth around Cape Girardeau, the Southeast region lost 7,800 residents, as a result of net domestic out-migration and natural decrease. Some of Missouri's most significant population loss occurred in the Bootheel.
Southwest Region: Although impacted by Joplin's 2011 tornado, the Southwest region has experienced steady growth since 2013. Most of this growth has occurred in the Joplin MSA.
St. Louis Region: The St. Louis region's suburban counties (e.g., St. Charles) are some of the state's fastest growing, but St. Louis City and St. Louis County have lost population over the past two decades. The suburban gains often occur at the expense of the urban core, but overall the region experienced continued net domestic out-migration.
West Central Region: Throughout the first part of the past decade the West Central region mirrored many other nonmetro areas with shrinking populations. However, the region has experienced positive population growth every year since 2016, as smaller cities like Warrensburg and Sedalia grew and Truman Lake attracted retirees and second home buyers.
These population trends have long-term implications for different regions. Growth regions will want to ensure that they continue to attract and retain people of all ages. Regions that attract people but have older populations will need to find ways to grow their working age population in order to support and strengthen their workforce. Areas with chronic out-migration must further address the reasons why people leave, and find ways to attract former residents to return.